Washington resident and powerhouse broker Stacey Matthews recently sat down with Happening in the Hills in her light-filled home to talk about lifestyle, fashion and country life.
As a former Wall Street trader, Stacey Matthews certainly saw the value in the unique beauty of Litchfield County when she first came here fourteen years ago. Originally just spending weekends in an antique farmhouse that she renovated with her husband Pels, the couple and their twin boys eventually moved to the area full time. Now, the owner of a successful real estate agency, Matthews has formed bonds with numerous artisans, designers, retailers, chefs and other local businesses.
Tall with striking auburn hair, Matthews has a strong sense of personal style both in the home and with her apparel and accessory choices. On this day, she wore a bold Madeline Weinrib brown and white striped caftan dress paired with a pendant from the Indian design collaborative Yatra. We asked her about some of her influences, inspirations and style must-haves.
What are the fashion items you cannot live without?
Stacey: I love color; orange, purple and lime green. Because of my height, I love large statement necklaces. Locally, my new favorite handbags are hand-stitched leather totes designed by Eric Leitz. I love colorful scarves and shawls and one of best shops in the area is R. Derwin in Litchfield.
Is there a design element in your home that inspires you?
Stacey: I love to create artistic vignettes with plants. I collect plants like other women collect handbags and shoes! I also like themes with my potted plants. For example, in my doorway for summer and early fall I use all white pots with all white flowering plants from Painter Ridge Maple Bank Farm.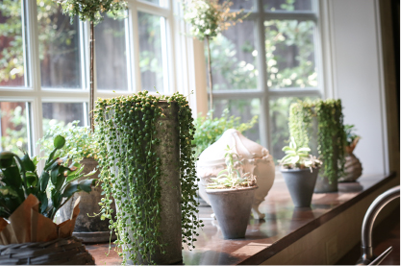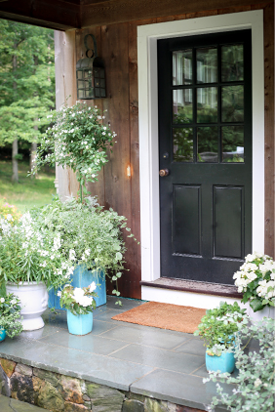 Did you use a designer? 
Stacey: Well, for my old house, I used two good friends who are also local designers: Karen Davis of Davis Raines Design and Phil Gorrivan of Philip Gorrivan Design. They each did different rooms. When we moved to this house, I sold some of the furniture from the previous house and then mixed up everything from different spaces. So I can't blame any one designer for the current result. I recently bought new family room furniture from Cara Hotchkiss at Oliphant in Litchfield. Her store is truly amazing and her look is exactly in line with my current tastes. So I have added many things from her store over the last couple years. I also love to shop all the stores in New Preston—so chic!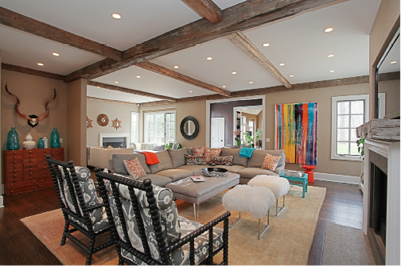 How do you choose your art?
Stacey: At this point we have made a decision to buy local artists or pieces from clients when they are moving. We recently acquired our second Gary Komarin painting which is quite large and is our newest infatuation. We placed it where we could see it every day in our passings. The large Matt Wood painting in the dining room came from The Behnke Doherty house when I sold it last year. The yellow colors truly brighten my day when I see it, and it changed my opinion about yellow. It's gone from one of my least favorite colors to my current favorite and I have added yellow accents to the dining room since realizing that I like yellow.
We also have a large Robert Dash painting of Proust from the 1950s in our dining room. One of my clients who is an art collector left it stored improperly and it became covered on both sides with mold. When she asked me to have it thrown out before I listed her house, I decided to take it home instead. It took quite a bit of work to find someone to save it but it looks brand new now. It's not something we would have bought ourselves but we have come to treasure it and recently went out to the Hamptons to see Dash's work exhibited in the Parish Art Museum. I have a few things on my radar for future purchases. I need to find a space for a photo I love at KMR Arts in Washington and I love a photo by local photographer Darryl Nitke that I want to surprise my husband with for his birthday. (He won't read this right?)
Our office currently has an exhibition of works by Harold Lewis, who was a local mid-century painter who had gallery shows throughout the US in the 50's, 60's, and 70's. We have worked with his widow to present these paintings locally for the first time. I have my eye on a few of my favorites that we will likely buy when the show comes down, but who knows, maybe they will sell first!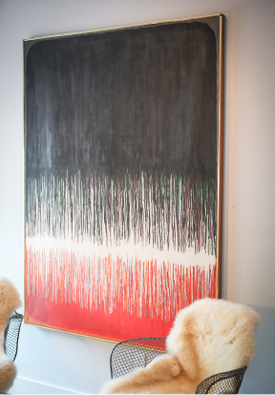 What is your entertaining style?
Stacey: I love the creativity of setting a pretty table. I cut the flowers form my garden and it never looks the same twice. That is my favorite part, as I mentioned before, I love plants and flowers and have over 40 indoor plants alone. We have a lot of parties and that is the reason I have such a large kitchen. No one ever leaves it. We serve drinks while I am cooking and everything is very casual. My husband and I cook almost everything ourselves when we entertain. I've had up to 30 people and done the whole thing on my own. I think people appreciate that and I know I appreciate a home cooked meal over a catered one any day.
What is your favorite part of the house?
Stacey: The kitchen! This is the room I am most proud of. I designed it completely myself and my builder, Sean Woodward, did a great job executing it. The cabinets and counter tops were custom made by local craftsman. My favorite single piece of furniture is my kitchen table which was custom made by York Street Studios in Woodbury. I had a dark, boring table there before and when this light one came in, it truly changed the whole room. I am thankful for it every day—and for Linda and Stephen's work in making it.
Your life as a real estate agent is very hectic. If you have a free afternoon, how do you spend it?
Stacey: I love family time, making a picnic at the Washington Club beach or out on a boat with friends on Lake Waramaug. In the winter, we play hockey on the frozen lake. We also love to stop by Arethusa in Bantam for an ice cream. One of my very favorite things to do is to go with a friend for a walk in Steep Rock Preserve, in preference to just sitting and reading.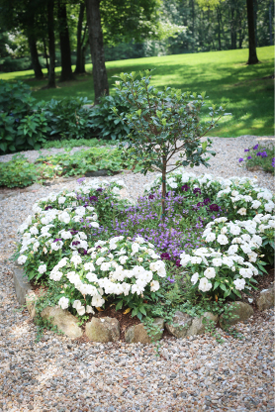 We finished up our conversation with some positive insights into the current housing market. Matthews has seen an upswing that coincides with the improvement in the economy. There are more young people from NYC who have large budgets for housing and who are attracted to Litchfield County where they can get more for their money with more land than in Westchester. The Matthews Group continues to grow with 20 agents in a team-oriented environment. The tech-savvy agency has launched a newly redesigned web site with an engaging country life blog and is one of the few to offer clients a comprehensive social media program.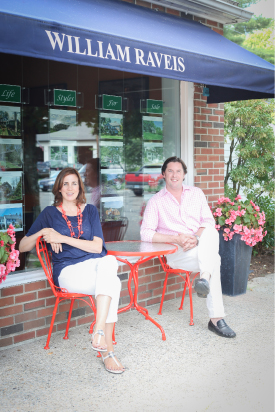 The Matthews Group
4 Green Hill Road
Washington Depot, CT 06794
860-868-0511
matthews@raveis.com
www.matthewsgroupre.com