At Shop Cathy b. in Woodbury, owner Cathy Boskoff melds the two worlds of New York and Connecticut fashion offering a great selection of women's clothing and accessories.
Where are you originally from and how did you end up here in Litchfield County?
I'm originally from Great Neck, Long Island. My husband and I were empty nesters and looking for a lifestyle change. The slower pace and country lifestyle of Litchfield County was a perfect fit for us!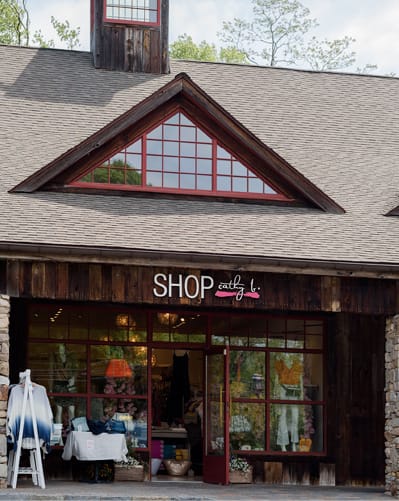 What is your background and what was it that inspired you to open up your shop in Woodbury?
While raising 4 children, I satisfied my entrepreneurial spirit by selling real estate on The North Shore of Long Island. After retiring and moving to Litchfield County, I saw a need for something different in local boutique shopping. I decided to open my own shop melding the two worlds of NY and CT fashion.

How would you describe your business?
I would describe the store as a fun place to shop. We carry a wide range of styles, sizes and price points… so there is something for every shopper. We pride ourselves on taking the time to make each customer feel important and looking their very best!

How is your shop different from other women's clothing shops in Kent and Litchfield?
We have a unique selection of classic styles, the latest trends, including handbags, footwear, and jewelry from around the world, not to mention our adorable line of baby clothes; high-end creams, lotions, and soaps which make for perfect gifts that we hand-wrap with our signature packaging.

What are some of the more popular brands that you carry in the shop?
Some of our popular brands include Just Black Jeans, Wearables, Wilt, and Bella Dahl.
What kind of response have you had from the community?
I've been open for almost 2 years and the response has been welcoming and favorable. Not only do we have loyal customers who feel like family, but each day offers us an opportunity to meet new customers.
Are your customers from various age groups or a more specific age group?
We have various age groups but our core demographic is probably middle age and beyond.
What are your plans for the future of Shop Cathy b.?
The business is evolving every day. We are building our ECommerce business at a rapid pace and are always searching for new and exciting products to introduce to our customers.

SHOP Cathy b.
641 Main Street
(next door to MarketPlace restaurant)
Woodbury
cathy@cathyb.com
203.586.1919
shopcathyb.com