One of the most enjoyable events in Litchfield County is ASAP's Young Writers Celebration, where burgeoning authors and revered teachers are the stars of the night.
Given that a large part of the population in the Northwest Corner is made up of writers, directors, designers, producers, artists, musicians, dancers, and actors, it seems fitting that this community would create and support a glitzy  annual event centered around fostering the next generation of writers. The Annual Young Writers Celebration is all about the kids, but over the years it has become a much-loved, legendary affair in Litchfield County. Any excuse to get together with friends under a sailcloth tent in a historic town green for cocktails and good food is a good one, but when you add to it that you are helping to bring the benefits of an arts education to hundreds of children, it's a win-win situation.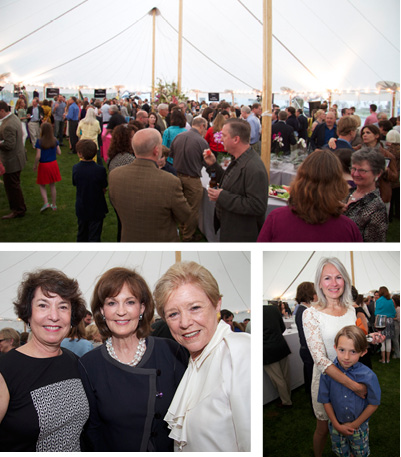 The After School Arts Program (ASAP) was founded in 1999 with 8 after-school workshops for about 24 children in Region 12. Its mission was—and still is— to provide opportunities for children to create, collaborate, and express themselves through exposure to and participation in the arts under the guidance of arts professionals. Fifteen years later, ASAP now provides hundreds of artistic and cultural experiences to thousands of participants from over 80 towns. With workshops in the literary, performing, visual, and culinary arts, the programs are designed to teach particular skills, nurture creativity, encourage group collaboration, and give kids a chance to explore new and sometimes life-changing experiences in the arts. Because the residents of the many communities of Litchfield County appreciate the importance of the arts, they have continued to offer amazing support to ASAP with fundraising, teaching, and volunteering.
Nine years ago, ASAP launched the first Young Writers Celebration to pay tribute to gifted young writers from Region 12. Inviting distinguished local celebrities from the worlds of literature and entertainment to read the students' work was a great idea. It added a touch of glamour and brought live entertainment to the event. That evening included well-known folks such as Frank McCourt, Denis Leary, Peter Gallagher, Rose Styron, and A.R. Gurney reading selections from works by the honored students. Since then, over the years, the guest readers have included Susan Saint James, Jerry Adler; Fran Brill Kelly; Candace Bushnell; Frank Delaney; Jack Gilpin and Dani Shapiro, to name a few.
These days, the programs reach a wider group of kids, beyond Region 12. Asap invites all students from many Connecticut counties in public and private schools, as well as home schoolers, to submit written works for the competition.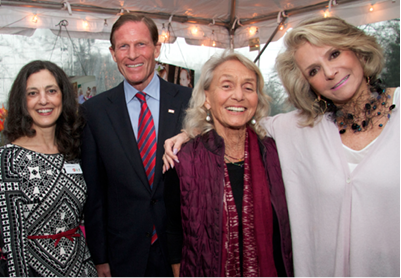 This year's evening began with a cocktail reception under a tent on the Washington Green. While hors d'oeuvres were being served, attendees walked about perusing the many items available for the silent auction. With over 400 people at the event this year, the tent was filled—even with rain, thunder, and lightening, they  still showed up. Next, the guests crossed the lawn to the First Congregational Church, where the readings of poetry and prose were held.
Before the show began, the live auction items were bid upon. These included an adventure vacation to Belize at the Gaia resort, a pig roast barbecue for 40 and dining out for a year. Senator Richard Blumenthal attended the event this year, and contributed to the live auction by offering a breakfast visit and tour of the United States Senate.
Host Frank Delaney was great with the young writers, posing questions about themselves and their work, eliciting entertaining banter. This year's young writers were Oliver Young, Isabelle Poskas, Hunter Kolpak, Kayleigh McKay, Mary-Genevieve Moisan, Riley Norris, Augie Delves Broughton, Lucy Patterson, Veronique Kinser, Joscelyn Norris, Olivia Pesce, Hannah Hudson and Samantha Stone. Congratulations to all of these talented students.
The guest readers were Frank Delaney, Paul Doherty, Jack Gilpin, Fran Keilty, Fran Brill Kelly, Carolyn Klemm, Ellen McCourt, Diane Meier, Adriana Mnuchin, Sheila Nevins, and Alan Shayne.
After the readings, there was a presentation for the Frank McCourt Prize for Excellence in Teaching, a special recognition of teachers. This prize honors the spirit of Frank McCourt, who was a teacher in New York City for thirty years before his success with his Pulitzer Prize-winning memoir, Angela's Ashes. McCourt was a resident of Roxbury and he gave generously of his time, talents, and energy to ASAP and other local causes. Along with his wife, Ellen McCourt, he was one of the original founders of the Young Writers project. The goal of the McCourt Prize is to recognize teachers whose imaginative assignments and techniques have inspired students to become enthusisastic learners. Anthony Weymouth from Washington Primary School and Marla Truini from Westover School were the honored teachers for 2014.
There are so many fundraisers, galas, performances, and openings to choose from in Litchfield County, and the Annual Celebration of Young Writers is at the top of everyone's list. With a community that has such a deep commitment to nurturing the arts, this area will continue to flourish and appeal to creative individuals for years to come.
We'll see you at next year's celebration.
ASAP, P.O. Box 15, Washington Depot, CT 06794
860-868-0740
ASAP@AfterSchoolArtsProgram.org
afterschoolartsprogram.org