Laura and Mickey Morris run a summertime haven for young artists where discovering and pursuing creative passions is all about freedom of choice. See why Buck's Rock is "like no other summer arts sleepaway camp."

Live music. Dancing. Blow torches. Fencing. Goats?
Wait, is Motley Crüe making a comeback? Sorry to disappoint… but this one's for the kids.
Tucked away on 125 acres of seemingly endless, lush forest right off Route 202 in New Milford is Buck's Rock Camp – a Montessori-inspired performing and creative arts summer camp for kids ages 9-16, and the stuff of which your wildest childhood dreams are made.
Think of the coolest thing you would do if you were a kid again, then find the nearest gang of teens and have them make your idea cooler. That's Buck's Rock Camp.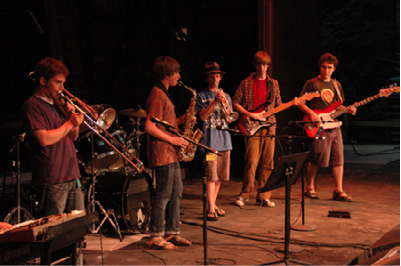 A thousand and one opportunities await campers here – the most niche options in music, theatre, fine arts, humanities, alternative sports, and even husbandry – and all under the dedicated leadership of owners/camp directors Laura and Mickey Morris.
Mickey holds a master's degree in child psychology and education, with a strong business background, to boot. Laura grew up at Buck's Rock, first as a camper, then as a counselor-in-training (CIT), and counselor. She brings her intimate, lifelong experience to shaping the direction of the camp. Laura tends to take on more of a surrogate parent role for campers and Mickey is more of a staff director, but otherwise, they share all responsibilities, including marketing and management.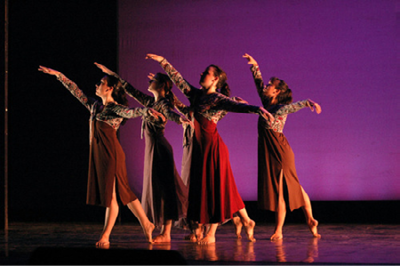 Founded in 1942 by Ernst and Ilse Bulova, Buck's Rock broke the mold of traditional summer camps of the time, rejecting conventional regimented structures and choosing to follow the teachings of the Bulovas' mentor in England, Maria Montessori. "Based on Montessori principles, campers are free to choose from all the activities, going where they want, when they want, on a daily basis" says Laura. "Without the pressure of having to choose or commit to activities in advance, we find that campers feel safe to explore and discover new mediums that interest them."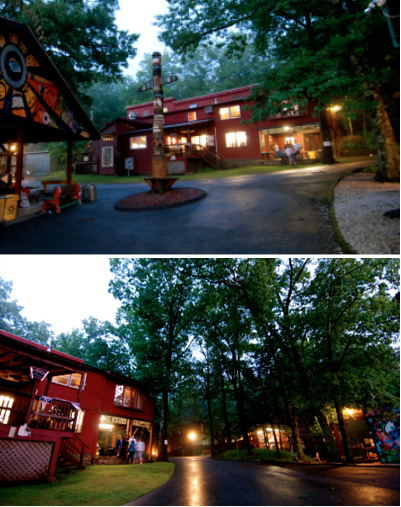 In 1974 the camp was purchased from the Bulovas, by a group of counselors, one of whom was Laura's father. Mickey and Laura then purchased Buck's Rock from that partnership in 1996 and have been the sole owners and directors since. And Buck's Rock continues to be a family affair: Mickey and Laura's decision to take over the camp in 1996 was largely motivated by the desire to preserve the experience for their own 3 children and for the children of other alumni.
When the camp first opened, farm work was an integral part of the daily routine, partly in response to WWII manpower shortages. After the war ended, Buck's Rock was able to focus its energy on its artistic endeavors, allowing it to flourish into the institution it is today. And alumni response to the camp speaks to its lifelong benefits. In 2001, alumni spanning almost 60 years of the camp's history came together following the death of Ernst Bulova to found Friends of Buck's Rock, a nonprofit organization that sends underprivileged children to the camp on scholarship. Mickey and Laura point out, "We are committed to having a diverse camper population and to assisting deserving campers to experience Buck's Rock. We are proud to annually assist over 40 families each summer."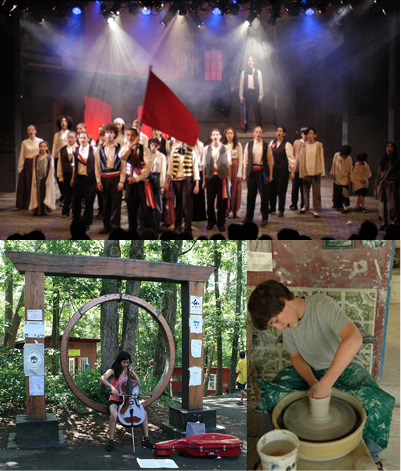 So what exactly is offered at Buck's Rock Camp? How much time do you have? Let's start with music: campers can enjoy "Guitar Snack" and start their own band; make fantasy a reality in Studio 59, a real, state-of-the-art recording studio; join an orchestra; play in a jazz ensemble; host their own radio show; or sing their hearts out a cappella. "They are asked to be productive, but what they choose is completely up to them. With so many wonderful choices ranging from theater to glassblowing, music and dance to metalsmithing and weaving, campers can only make good choices. As they commit and engage themselves, they gain self-confidence and skills that are beneficial for a lifetime," Mickey and Laura explain.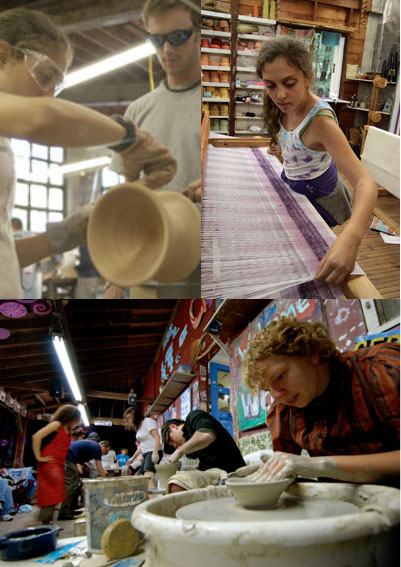 Performance? Take your pick: theatre, acting, dance, video, costume and set design, puppetry, improv, standup comedy, and circus arts are all at campers' fingertips. The traditional arts are covered, too: photography, painting/drawing, papermaking, publishing, ceramics, glassblowing, woodshop, sculpture, metalsmithing… pausing to take a deep breath… printmaking and silkscreen, sewing, batik, leather work, weaving, flamework (yes, you read that correctly), as well as computer and culinary arts.
Sports are a part of this well-rounded community, but in a non-competitive environment. In addition to your traditional American summer camp pastimes like softball, basketball and tennis, campers can participate in activities such as martial arts, archery, and fencing.
Animal care, perhaps the offering most rooted in the camp's history, is a session-long commitment to the health and happiness of a camper's "adopted" farm animal. Goats, guinea fowl, rabbits and more receive full-time attention and live at Buck's Rock year-round.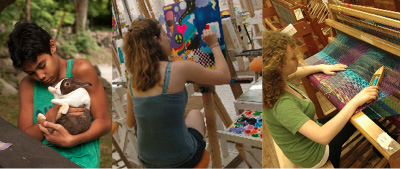 Every day at Buck's Rock begins at 7:30 a.m. and ends at 10:15 p.m. Campers can explore their interests from more than 30 programs located in various buildings around the campus, including  the professionally-equipped studios, the performance theater, the state-of-the-art recording facilities, and an Olympic-size pool. It is a great opportunity for self-discovery and creative expression, whether in a collaborative project or as a solo stint. With a camper-to-counselor ratio of 2 to 1, support and guidance are close at hand. "We hire instructors who are teachers, artists and professionals in their fields, with a vital guidance team of counselors who are separate from the instructors and act as surrogate parents, helping to guide our campers through a summer of exploration and discovery in a wonderfully supportive and noncompetitive environment." And there are plenty of opportunities for the campers to share their talents and gain the experience of performing for a crowd. Each evening there is an event such as a theater performance, dance recital, movies on the lawn, stand-up comedy nights, dance parties, music concerts, and more.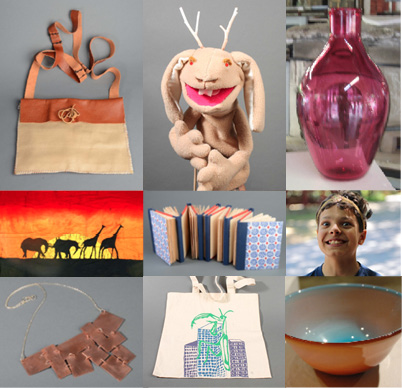 Buck's Rock attracts teens who are creative and artistic rather than sporty. "In addition to being interested in the arts, whether performing or visual, our campers are self-motivated and bright, curious learners. They are individualistic, open-minded and tolerant of each other, all values that we foster in our community," Laura adds.
Buck's Rockers are a tight-knit community and remain in touch over generations. Even with teens coming from all parts of the world to attend the camp, lifetime friendships are formed. Sam Blitt, a 17-year-old local Washington resident who attended the camp for four summers said, "I recently traveled to London, and I spent time with 4 fellow campers—3 from the UK and 1 from New Jersey. We all stay in touch. We have a common bond." The memories and experiences that campers share together remain with them their whole lives, as another former camper, 17-year-old Abraham Silver will attest, "Buck's Rock has been a home to me since the first summer I spent there. The community of artists and the creative air about this place is what makes Buck's Rock one of my favorite places in the world."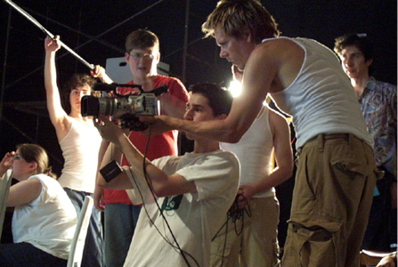 Many Buck's Rock alum have gone on to do amazing things in their lives and they range from well-known jewelry designers, musicians, Oscar-nominated costume designers, actors, comedians, writers, journalists, to artists. Here's a sampling: Ezra Koenig, singer/guitarist in indie-rock band Vampire Weekend; Erica Jong, author; Dan Shor, actor; Rebecca Drysdale, comedian; David Miner, Emmy-winning producer of 30 Rock; Danny Glicker, Academy-award nominated Costume Designer; Charles Alterman, Broadway conductor and music director; Jesse Blumberg, classical singer; Sadie Dupuis, guitarist and singer in rock band Speedy Ortiz; Janet Margolin, actress: David and Lisa, Annie Hall; Henry Sapoznik, Klezmer music authority, four time Grammy nominated performer/producer Happy Traum, folk musician of 1960–2000, session guitarist for Bob Dylan; Roy Book Binder, blues guitarist; and actor Ezra Miller.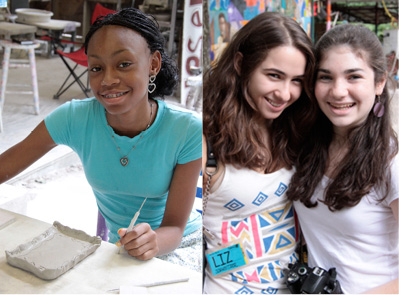 The camp has hosted a number of prominent folk performances, including ones by Simon & Garfunkel, Pete Seeger, Reverend Gary Davis and Dar Williams. Canadian teen sensation Pamela LaJoie performed as a camper in 2008. Lectures and workshops given by prominent artists have been a staple of the camp since its inception, with visits ranging from Leni Riefenstahl to Maury Yeston. In more recent times, the camp has hosted alumni parent Kevin Bacon's band The Bacon Brothers. The camp has also hosted Canadian staff band Hunter Valentine.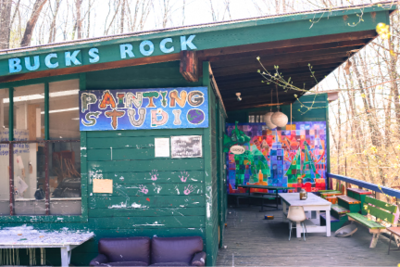 Hearing from parents, campers, and alumni, Laura and Mickey are told over and over again how much Buck's Rock has shaped who they are and how it has influenced their lives, so much so that alumni send their children to Buck's Rock. "We are extremely honored and proud to have second and third generation campers." Hence their motto: "Once a Buck's Rocker, always a Buck's Rocker."
Mickey and Laura reassure us that the camp is here to stay. "We hope Buck's Rock continues to thrive for generations to come, continuing to provide teens with a unique opportunity to explore the arts in a freedom-of-choice environment."
As the source of recurring excitement in campers, the envy of parents, and the life passion of two dedicated directors, Buck's Rock ensures summers once filled with boredom and leaky sprinklers will never be the same again.
And if anyone can tell me what on earth a Fleen is, I'll take two.
Learn more about Buck's Rock Camp here, including session and enrollment information. For more on the non-profit organization Friends of Buck's Rock, click here.
Buck's Rock Performing
and Creative Arts Camp
59 Buck's Rock Road,
New Milford, CT 06776
860.354.5030
or toll free: 800.636.5218
info@bucksrockcamp.com
www.bucksrockcamp.com