The Bruzzi Family is launching a modern country gardening center in Northville that promises to become a regular hangout for local families and friends.
With 17 years of experience operating Bruzzi Lawn & Landscape, LLC, Chris Bruzzi has decided to expand the family business by opening The Green Spot. His vision for the gardening center is two-fold: to offer only organic products and services and to create a communal environment where folks can drop by, get plants and supplies, see the displays and designs, learn, do an activity, and eat.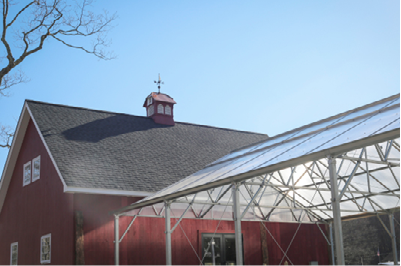 The Green Spot is situated on a beautiful stretch of land along the river, across from the Northville Fire House on Route 202. From design services to building and growing, every project and product will be environmentally-safe. All-natural alternatives for pest sprays and tick sprays, and other products—even bio-degradable gloves—will be for sale and their experienced staff will be able to provide helpful advice to customers. An onsite landscape architect will be available for consultations as well.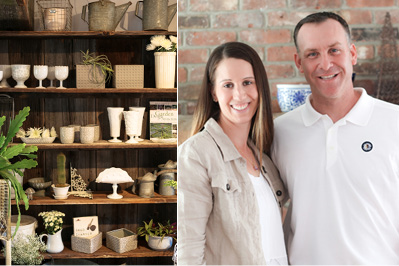 There is a top-of-the-line Vail Atrium greenhouse which uses the innovative Atrium vent system for cost-effective natural ventilation. It has shade cloth sliding doors to conserve energy and runs on radiant heat in the colder months. The daily operation of the business has been carefully planned and the owners are very mindful when it comes to the environment. A bio filter will collect the over-surge from the nearby river and will be reused.
Education is a big part of The Green Spot and in the works are guest lecturers, horticultural classes, book signings, and workshops. The barn has potting tables and workstations, should you be interested in bringing your container (or buying one there) and potting a plant. Or maybe you'd like to take an instructional class on creating a terrarium. Kids can buy a special box of potting things, empty it on the work table, flip it over, and use it to stand on while potting their own plant. It's a great place to throw a kids' birthday party. From a weather station to an outdoor kitchen, a berry patch, a children's garden, nut groves and a CSA for flowers, it is a complete garden paradise. You won't want to leave.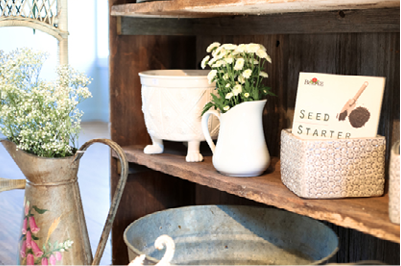 In addition to the typical nursery items such as plants, trees, shrubs, soil, stones, containers, and tools, the center will also carry cut flowers, edible flowers, vegetables, air plants, a large selection of cactus plants, vertical gardens, apples, lavender, herbs, spices, and medicinal plants.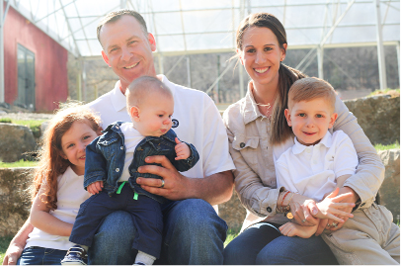 With an eye on reusing and recycling, creative consultant Randy Sabin has chosen old barn wood and repurposed materials to create a country modern look to the interiors of the buildings. With years of experience dealing in antiques and vintage goods, Randy brings an eclectic mix of items to the shop. There will be a section in the retail building specializing in antique and vintage gardening items, from milk glass containers to wrought-iron outdoor furniture. Upstairs in the library is a great collection of vintage gardening books. While you are browsing the shelves, you can stop by the refreshment area and pour yourself a capuccino, tea, or an organic drink. Natural foods will be available and the pizza oven (also for sale) will be turning out some hot slices. Pizza night will be a regular weekly event, as well as other family-oriented activities.
If you're throwing a party or a wedding, there's plant rentals and floral arrangement services. For those of you going on a trip this summer, plant sitting will be available at The Green Spot, so you can have your plants taken care of while you're away.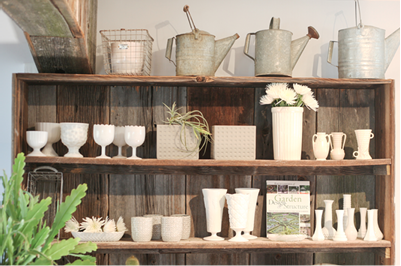 Outdoor lighting and furniture, unusual containers—even bio-degradable car liners are for sale, so as you drive away with all  your goods, the inside of your car is protected. The Bruzzi family has thought of everything so you don't have to go anywhere else for your gardening fix.
The Green Spot will be opening in early June. Check their website  for more information.
The Green Spot
354 Litchfield Road
Northville, New Milford
860.799.5102
thegreenspotNewMilford.com