One of the best-kept secrets in the Northwest Corner, the Litchfield Hills Rowing Club is where teammates work hard — and play hard — in the ultimate team sport.
After meeting the members of the Litchfield Hills Rowing Club on a Saturday morning at Bantam Lake, the impression we came away with was that rowing results in great teamwork and a whole lot of fun. The Vice-President of LHRC is Sue Edelstein, a feisty 65-year-old with a warm, friendly personality who began rowing at age 58. She spent time explaining the background of the club and the benefits of the sport of rowing.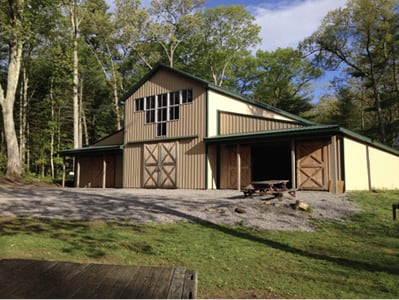 Founded in 1978, the Litchfield Hills Rowing Club's mission is to promote the sport of rowing for residents in the Litchfield area. With two programs — high school and masters — the club is for all individuals who have the desire to participate, starting at age 12. It's a team sport and requires dedication, patience, and passion.
You don't have to be an athlete to sign up for your first learn-to-row class. If you are well-coordinated, you will begin with an advantage. Once you begin, be prepared for the positive changes that will happen in your overall physical well-being. The main benefits of rowing are building strength, endurance, and mental focus. As well, one can expect to improve leadership skills, time management skills, discipline, and competitiveness. A sense of belonging and accomplishment can also be achieved and, all together these improvements and benefits can result in a college scholarship opportunity.
Their first boats were kept on racks at the Litchfield Town Beach on Bantam Lake, but now the club has a beautiful, solar-powered boathouse that was built in 2009. It has 3 bays and a loft area for rowing machines. They own a fleet of singles, pair/doubles, quads, fours, and eights.
The club recently hired a new Head Coach and Program Director. Kristine Johnson is a seasoned coach with 10 years of experience. She is from Zimbabwe and was the Head Coach of both the Chisipte Boat Club and the Zimbabwe Junior National Squad. An accomplished rower, Kristine has medaled at top regattas such as British Nationals, the Henley Women's Regatta and the Metropolitan Regatta, as well as the South African and Zimbabwean Nationals. Kris was living in Zimbabwe and saw an ad in the classified website Row2k for a head coach in Litchfield and applied for the position. She wanted to be a part of a small club, not in a big city. The Litchfield Hills Rowing Club fit what she was looking for. The only thing she didn't anticipate was the cold Connecticut winters!
One can start rowing as a recreational activity and then once you have seen small, personal gains, you can later shift to be competitive if you desire to. This is how the Masters at the Litchfield Hills Rowing Club got started.
The Masters team is comprised of a diverse group of people. The eldest, Charles, is 77 years old and the youngest is 22. Pete Donahue is the Chairman of the club. He started rowing 7 years ago. Brigitte, a middle school teacher in Torrington, has been rowing for 4 years. Gail Zaharek has been rowing since 1993 when she attended college. She participated in the NCAA in the first-ever woman's rowing championship. She is a true athlete having competed in iron-man competitions and has been with the rowing club for 3 years. Amy Dwyer has been rowing for 5 years, since 2013. Her father who is 81 years old and from New Haven sometimes joins the team in Regattas. They spend a lot of time together, like a big family. In the spring, summer, and fall, they row on the water 4 days a week and train together inside with the rowing machines (ergometers) twice a week. During winter they train inside all week. The weather is a huge factor in how their training goes. During early morning training, you can encounter fog on the lake, darkness in springtime, and 2 miles an hour winds. Generally, the water is flatter in the morning. If there is a strong wind and lightning, they don't row. Winds of 13 to 14 miles per hour can be tough to row in.
The busiest season for the club is obviously the summer, and the head coach Kristine is on the water 6 hours a day, as there are programs all day long. You have to be dedicated and disciplined because rowing is physically demanding and technically difficult, not to mention the early morning hours. On a typical day, the morning competitive rowers meet at the lake at 5:15 am and follow the coach's drills. They rely on each other — you have to show up as teams require a certain number of people. One person's vigor matches the other's vigor. It requires mental focus. You also have to learn to trust your teammates. Sometimes it is 2 people sculling which is called a double. Other times it is 4 people which are a quad. The person with the strongest stroke sits at the front, the engine room. In a boat of eight people, the coxswain is the person who gives direction, who steers and commands — the strategy person.
In 2013 the Masters teammates started to skull and now they are at a 3.0 level. The club has been growing and expanding and the Kris, the new coach, is continuing the momentum that the previous coaches began.
The club's focus is on youth — to introduce the area's youth to the sport of rowing. They have student members from high schools in Litchfield, Morris, Goshen, Naugatuck, Bantam, and Warren. The students compete in area regattas and races in spring, summer, and fall, and also compete in indoor regattas in the winter. Participating in the sport can change kid's lives. A sophomore claims it improved his self-confidence. Young people at this age are still figuring out "Where do I fit in?" At times having rowing experience helps kids get into college, and some teens go on to coach. Rose is a senior who has received a rowing scholarship to UVA. Drew is a student who came back to Litchfield after college and now assists as a coach. With his experience from rowing in college, he brings back other ways to approach rowing.
The Litchfield Hills Rowing Club Parents Association (LHRCPA) exists to support the LHRC Junior Rowing program. Besides coordinating information and logistics for regattas, they also spearhead fundraising efforts to defray the cost of racing (regatta fees) for the juniors. Through rowing, parents discover things about their own kids — they learn to see a different side of them.
Coach Kris explains the differences between the Juniors and the Masters, "Kids tend to require more structure and guidance. Masters are more self-driven. They have a different level of desire, more of an individual drive. Sometimes teens just need to be taught to have drive. The recovery time of a young teen is different than an adult's. Early teens are naturally fit so they recover quicker. At fifteen, it starts to change. They go through a growth spurt and then they lose it and need to relearn. Masters have so many years of a certain movement, but then they lose focus. It is a very technical sport, all about technique. You are always in search of that one perfect stroke!"
The US Rowing Organization is a governing body that provides things like insurance and its membership is needed in order to compete. They sponsor National Learn to Row Day and the Litchfield Hills Rowing Club participates every year. The Open House is Saturday, June 2nd and anyone can attend. You can try rowing and — if you like it — join later.
The Learn To Row Program
Learn To Row is for anyone who has never rowed/sculled before. There are six one-hour classes in each session. Both juniors and adults of all athletic backgrounds and ages (ages 12 and up) are welcome.
Learn To Row – Juniors (ages 12 and up)
Session 1:
Tue, Jun 5-Thu, Jun 14
T/Th: 9:00 am-10:00 am
Cost – $150
Session 2:
Tue, Jun 19-Thu, Jun 28
T/Th: 9:00 am-10:00 amCost – $150
Learn To Row – Adults
Session 1:
Tue, Jun 5-Thu, Jun 14
T/Th: 5:30 pm-6:30 pm
Cost – $150
Session 2:
Tue, Jun 19-Thu, Jun 28
T/Th: 5:30 pm-6:30 pm
Cost – $150