Photographer Jack McConnell's portraits of Connecticut farmers and their farms are beautiful, gritty, and intense. As a collection, they are an important testament to agricultural life.
For years Jack McConnell photographed covers for the SNET city telephone directories, Connecticut Tourism brochures, TV spots, corporate brochures, billboards, and calendars. McConnell is an annual report/advertising photographer, who travels the USA and Europe for Fortune 500 clients.
He was the photographer and cinematographer for Aetna Life & Casualty, chief photographer for United Technologies at Pratt & Whitney, and photographer for Cold Regions Research Labs and North Country Journal. He also worked as a photographer for the US Army 82nd Airborne, 921st Combat Engineers for 2 years.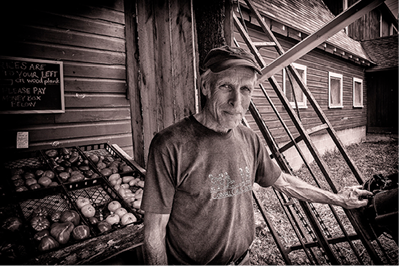 He has won numerous awards for his work and his work has been exhibited in juried shows and galleries. Many of his photographs are in corporate collections. His stock photo library of 250,000 images is located in Wethersfield, and marketed to advertising and fine art clients around the world via his website: www.jackmcconnellphotography.com and www.connecticutstockphotography.com
During his prolific career, Jack also found time to create some portfolios of images that he initiated, such as Hartford Parallax: City Abstracts, 'Round Hartford, A Walk Down Main Street, At Water's Edge, We Two, Sit Down, Quintessential Connecticut, Days and Nights in Portugal, New England Stone Walls: Icon at Risk, Island Time, Just Winter, Classic New England, A Walk Down Park Street, and Know Your CT Farmer. It is this last project that caught our attention and is the focus of this feature.
Jack McConnell grew up in Gorham, NH near Mt. Washington. "As a kid I hiked all over the White Mountains and worked as a backpacker on the Appalachian Mountain trails carrying supplies up to the hut system. When I graduated from high school, Joe Dodge sent me up to the top of Mt. Washington where I worked for four years as a weather observer in the Mt. Washington Observatory, and then as a weather technician in the aeronautical testing facility nearby, where they did cold weather testing to see how jet engines would react in freezing and icing conditions."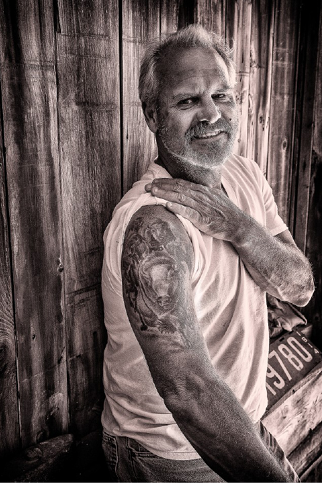 When he was drafted into the Army in the early 60s, Jack was sent to Fort Leonard Wood, Missouri as part of the 82nd Airborne, 921st Combat Engineers, and worked as photographer during combat training and reconnaissance events. After serving, he took a job as a research photographer at Cold Regions Research Labs in Hanover, NH, and traveled to Greenland, the Medicine Bowl, and the Boulder-Denver Watershed Areas, where he documented soil movement studies at high altitudes and ice core sampling.
From there McConnell worked as a photo journalist for the North Country Journal for a short time, before coming to Connecticut as a research photographer at the Pratt & Whitney division of United Technologies. That was followed by six years as Chief Photographer and Cinematographer at Aetna Life & Casualty in Hartford, where he worked on shooting PSAs and 23 full-length documentary films for the Property Casualty division on such topics as hurricane hunting, glass making, warehousing, lumberjack safety, and money management subjects.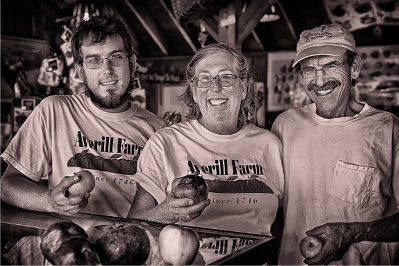 Jack was never trained or educated as a photographer,—he was completely self-taught and learned on the job. "I fell into photography, quite by accident, while working on Mt. Washington as a weather observer. The extreme weather presented opportunities for me to see amazing conditions caused by ice, wind, and clouds. One inspirational moment I remember was opening the door of the Tip Top House on the top of Mt. Washington after an extremely brutal couple of days of high wind and snowfall, only to find a 3×10' column of snow with knife-sharp edges shaped by snow entering at high speeds through a 2" keyhole in the door that had allowed the wind-driven snow to pile up inside the corridor in the same keyhole configuration. I was amazed," he recalled.
"Another time I ventured out after a ferocious snowstorm to see a field of foot-high icy sculptures created by my earlier footsteps that had packed the snow, and then high winds had scoured away the powdered snow surrounding them leaving the foot-high footsteps behind. So, in times like these, I just "knew" I had to somehow document these scenes. And fortunately, my dad had a 35mm camera tucked away in a drawer that I "adopted" to take my first-ever photographs."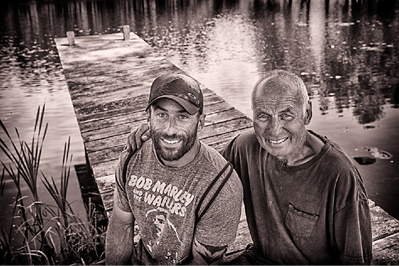 After years of working for corporations, Jack decided to go out on his own. "In 1972 I tore off my corporate necktie, and left Aetna to start my own freelance photography business. For 46 years I've traveled the USA and Europe for Fortune 500 clients, shooting annual reports and advertising campaigns. With my wife Paula McNamara I began my stock photo library in 1978, which has grown to 250,000 images which we market to clients around the world. About 20 years ago I started showing my fine art photography in galleries, and selling to corporate art collections around the state."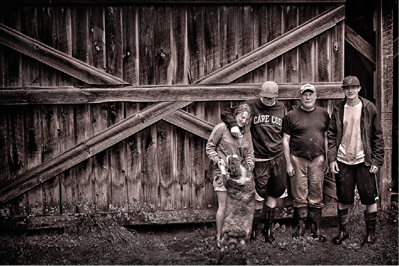 McConnell grew up in a small, rural New Hampshire town in the 50s and was was not exposed to art education and had no artists within his family and friends. "Guy Shorey, a landscape photographer from Gorham who documented the North Country had a small camera shop in Gorham (and I probably pressed my nose to the window of his shop as a kid) and Dave Atwood, who was an exceptional local portrait photographer, were the only professionals I had the chance to observe in my youth. Once I did pick up a camera, I admired the photographs of the Farm Security Administration photographers like Walker Evans, Dorethea Lang, and Margaret Bourke White, who produced the story-telling black and white photos of the harsh life in the Dust Bowl during the Great Depression."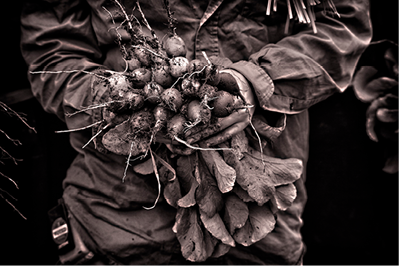 Twenty years later, Jack McConnell had many photographers to admire, such as W. Eugene Smith, Jay Maisel, Ernst Haas, John Sexton, and the great environmental portraitist Arnold Newman whose work he saw in magazines, books, as well as their commercial work. "Occasionally I took workshops from Maisel, Newman, and Sexton at the Maine Photo Workshops in Rockport, ME. And by the 80s I was giving workshops myself on Corporate Photography in cities all over the country for Calumet Photographic."
The idea to document Connecticut farms and farmers came to him while photographing stone walls for his collection called New England Stone Walls: Icon at Risk. Jack began talking with farmers around the state and learned that farming in Connecticut is a $4 billion industry, supporting 22,000 jobs, and 5997 family farms. "That was a startling number to me and when I asked my friends how many farms they thought were in the state, they would inevitably guess 50, 200, maybe 500 at most. No one had any idea there were close to 6,000 farms around the state."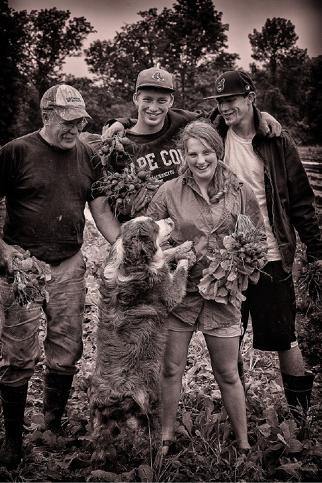 "All the farmers I met were wonderful, generous, thoughtful people who loved working the land, and had a "calling" to work to produce food for their communities. They were independent, resourceful, and hard-working, much like the lobstermen of Maine, whom I had photographed at an earlier time. I love doing environmental portraits, and I love shooting in black and white. It all fit together nicely."
So far, Jack has photographed about 100 farmers, including about 25 in Glastonbury near his studio in Wethersfield. "This project is completely serendipitous – I'm open to wherever it may tumble next. If I could find the resources, I would do a portrait book about Connecticut farming, or a more comprehensive documentary."
For the farming project images, Jack turned to a sepia tone instead of color. "I've always loved shooting and printing in black and white, and I've spent thousands of hours in my darkroom, listening to music and swishing my prints through a chain of chemicals. Now that I'm shooting and printing in digital, I can "tone" my prints with a simple twist of a dial. I experimented within a suite of toning choices called Silver EFEX Pro preferring a bronze, copper toning that seemed appropriate for the farmer portraits, in a style reminiscent of the FSA farm portraits of the 30s. I wanted the photos to have an earthy, retrospective feeling that was appropriate to the subject of farming. After viewing the prints last year, the Hartford Public Library asked me to put together a show of 60 prints to go along with the city-wide reading of John Steinbeck's Grapes of Wrath. So I must have struck a chord."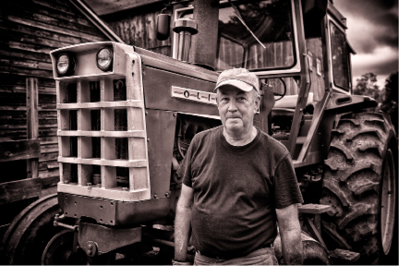 The farmers and their families responded to this project with some a hesitancy at first. "For the most part, when I first approached a farmer to photograph them, many were reluctant because they were busy clearing fields, planting, weeding, pruning, feeding their animals. But once we got talking and photographing, they barely let me go, because they had such a pent-up need to share how they felt about their land, and about farming. Most explained their choice of farming as a calling."
"By now, I've visited some individual farms maybe 10 or 20 times, and I see the farmers at local Farmers Markets or at their own farm stands. I invite them to my shows and they bring their families and stand conspicuously near their portraits ready to engage passersby; or they eat at restaurants where their photos hang on the walls."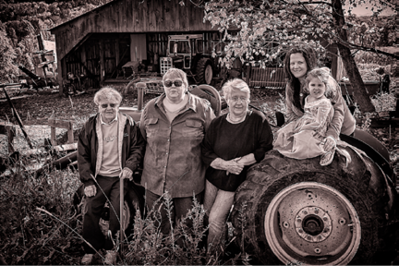 His striking photographs of the farmers and their farms are featured in videos for a television show called This Life Calls to Me (CPTV.com/SharingCT). We asked McConnell about his expectations in terms of the impact the new awareness may have on the agricultural community in Connecticut.
"I think they appreciate my effort to publicize their need for support and understanding by their local communities. People are catching up to the need for local food security and these photos are an easy way to get them to start thinking about some of the issues involved."
Today's Connecticut farmers provide locally-grown food to nine million people living within a half-day's drive of Connecticut farms. Connecticut has some of the finest growing soil in the world, and a safe abundance of water. With recent improved methods of food production, farmland preservation, CSAs and other distribution channels, the Farm-to-Table movement, Farm-to-Schools, and farming without pesticides, people have advanced awareness about eating fresh, local, healthful foods.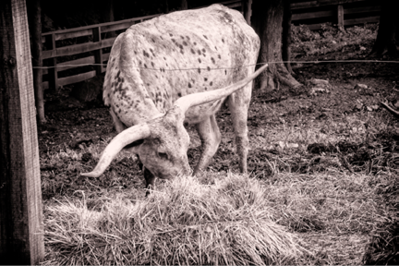 "Because people tend to respond to pictures and stories, rather than facts and figures, I hope to engage the public to consider what kind of food they eat, and where and how it is grown. In terms of the Earth's longevity, American farmers have only existed for the blink of an eye. Decisions made today will determine how we will feed ourselves in the next blink of an eye. Will it be Agri Business and warehousing, or a renewed emphasis on the local family farm?
Other serious concerns like climate change, the disappearance of forests and trees which provide the very air we breathe, and the careless pollution of reservoirs and streams, are gathering momentum; and I hope my farm interpretations will help people delve into the problems of food insecurity in many parts of the world, and even in some corners of urban America where grocery stores and fresh produce are relatively unavailable. There are so many helpful state organizations that are educating the public about these problems, and I hope my photos will give people access to these concerns."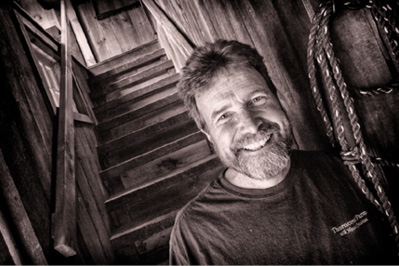 Spending so much time with the farmers, Jack's understanding of the agricultural community in Connecticut has grown. "I have learned that the issues involved are serious, and in some cases are reaching a dangerous tipping point, such as the decline of dairy farms within our state. If we don't do a better job of protecting Connecticut farmland, of encouraging young farmers, and supporting those who are growing our food, we will go down with them."
Looking towards the future, we asked McConnell if he had any thoughts or plans for his continued work. "While working on the CT Farm Project, which is all about an intense, rustic-style of black and white portraiture, I've been simultaneously working on a totally different style of photography, shooting colorful architectural abstracts in the capital city of Hartford, using only my extreme long 400-550mm lens, my extreme wide 8-15mm wide lens, and a multi-colored polarizing filter that intensifies the color found in sun, shadows, and reflections of sky, clouds, and one building reflected in another nearby building. I've created what I call a Parallax Effect to help people drop their old perceptions of the city and be open to rethinking what they can imagine for Hartford. It's not the same-old, beige and gray city of their memories."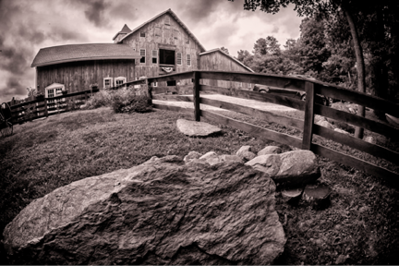 He added, "Taking this one step farther, I am now shooting various neighborhoods in Hartford, and iconic photos in the 28 towns surrounding Hartford, with a fish-eye 8mm lens, in a new series titled 'Round Hartford. These 180 degree spherical photos encompass everything the eye can take in, from the sky on high to the tips of my toes, to the view of my finger-tips stretched wide. Again, this is photography with purpose as I try to get my viewers to see with fresh clarity, to not allow their old prejudices and preconceptions to color the reality of the city around them, left and right, close and distant. And to realize that we're all in this together; that a strong core city is essential to the welfare and success of the surrounding towns, and like the trees in the forest we all thrive when we support and nourish one another."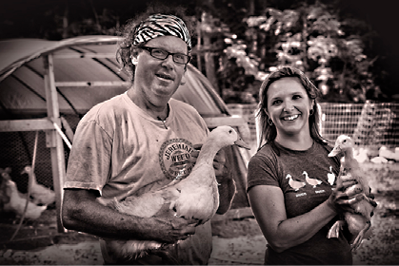 You may view Jack McConnell 's photographs This Life Calls to Me on exhibit at The Good News Café in Woodbury starting January 8 through April 9, 2019.
Watch This Life Calls to Me on CPTV: viewings of six 3-minute videos and a half-hour compilation video from Season 1; and on the website CPTV and click on This Life Calls to Me to see the six videos from Graywall at Farmers Cow, Cato Corner, Beaver Brook Farm, Eddy Farm, Beltane Farm, and Lyman Orchards. Four of six farms have been shot for Season 2, including Oak Ridge Farm (dairy), Thrall Farm (hops), Lavender Pond Farm (lavender), and Ideal Fish; with the Jones Family Farm and Thorncrest Farm.
McConnell & McNamara
Wethersfield, CT
860.563.6154
jack@jackmcconnellphotography.com
JackMcConnellPhotography.com
ConnecticutStockPhotography.com
StonewallJack.com