With a new look, opened-up walkways, beautiful landscaping and thriving shops, galleries, restaurants, and food purveyors, Kent Barns has become a village within the village.
Have you experienced the new Kent Barns? Its inviting renovation is creating a buzz as new businesses join those we already know and love. Access from Main Street now makes it easier to enter and there are more parking spots. The lush plantings and additional seating make it feel like a park. And besides viewing art, having a bite and shopping, one can join in on the many events taking place.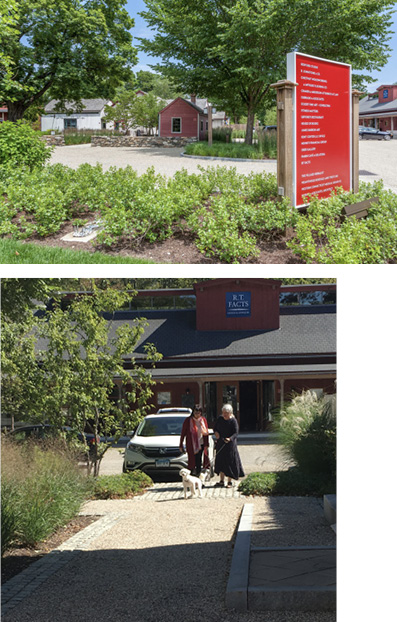 The original Kent Barns was built in 1999 by James E. Preston and designed by Matthew Preston. Located at the corner of Routes 7 and 314, in the center of Kent, the complex consisted of shops, cafes, and a gallery—a commercial plaza of mixed use. 14-years later, the development has changed ownership and with it came big improvements.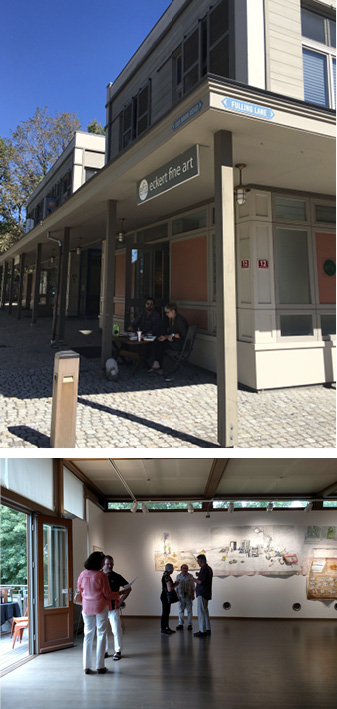 In 2014, the complex was bought by several Kent residents, including Hiram Williams and Peter Vaughn, who undertook an extensive renovation of the landscaping, and began the restoration of historic buildings on Main Street. A huge amount of work was done. Fulling Lane was opened to through-traffic thereby connecting Kent Barns directly to Main Street and furthering the goal of knitting the complex into the village fabric.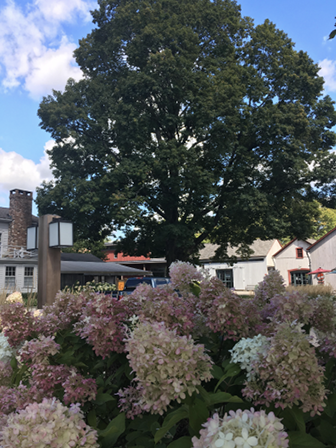 In the spring of 2016 landscaping began in earnest with the planting of many trees, plants, and the addition of more places to sit and walk. From the landscape design including parking, lighting, walkways, and signage, it is now a much more coherent pedestrian experience. It's a small community with a park.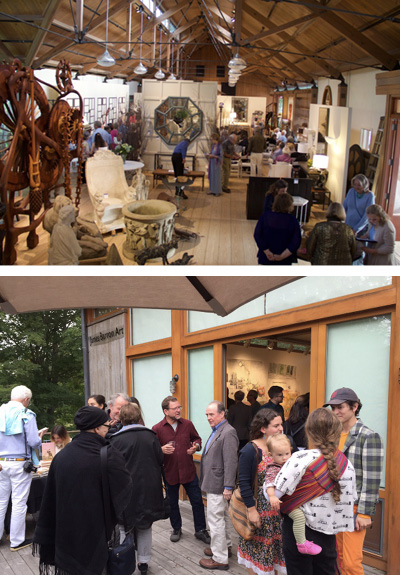 Kent Barns now has shops, galleries, restaurants, and other businesses in more than a dozen buildings, including six restored or rebuilt historic barns, all accessible by foot. Musical concerts are held in the plaza, and a social event called Second Saturdays started in May. On the second Saturday of every month, from 4 to 7 pm, the public is invited to open houses, gallery opening receptions, book signings, and more, each event is unique at each venue. Some shops stay open and refreshments are served, wine and hors d'oeuvres. Torch lights and extra seating make it a warm environment. So far, it has been quite successful. The timing of it is great because you can still go out for dinner afterwards. The next one is in two weeks, Saturday, October 14.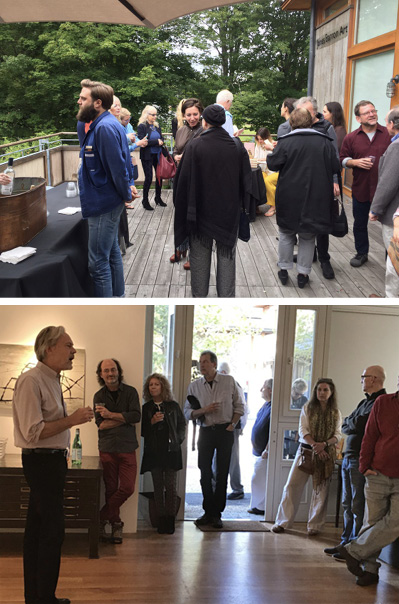 R.T. Facts moved into the huge space in the back where Morrison Gallery used to be. Chestnut Woodworking will have their grand opening on October 14 at 5 pm.
Future plans include bringing in another food venue selling prepared foods and coffee — a meeting and gathering spot— next to House of Books on Main Street, where there used to be a coffee shop. The goal is to bring local food and local talent to the area.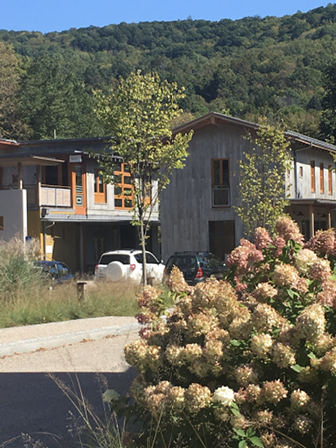 Chef Joel Viehland (formerly of Community Table) and philanthropist Anne Bass have opened two new restaurants called Ore Hill & Swyft. They are located at the corner of Routes 341 and 7, where the pharmacy was. Swyft will be open for lunch and dinner and will have a more casual atmosphere and menu. Ore Hill will serve dinner only and will feature a four-course menu. Most of the food is sourced locally from Ore Hill Farm in South Kent. Both restaurants are expected to open in October.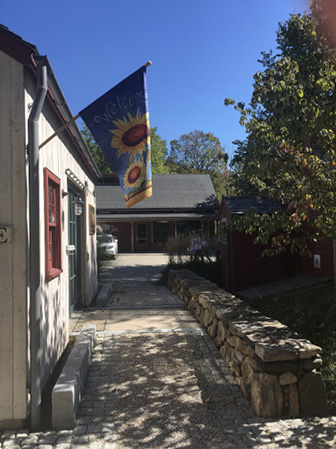 Other future plans are a Farmers Market and possibly a wine bar. With its revitalization, Kent Barns is quickly becoming a vibrant community with quality venues and the folks of the Litchfield Hills couldn't be happier.
Following is a list of the diverse group of businesses that make up Kent Barns:
B. Johnstone & Co.
4 N. Main Street
Bedford Studio
14 Old Barn Road, 2nd Floor, Unit 3
Chestnut Woodworking & Antique Flooring Co.
5 Fulling Lane
Cramer & Anderson Attorneys at Law
14 Old Barn Road, 1st Floor, Unit 1
Dubraski & Associates
14 Old Barn Road, 1st Floor, Unit 2
Eckert Fine Art Gallery + Consulting
12 Old Barn Road, 1st Floor
Fitness Matters
14 Old Barn Road, 2nd Floor, Unit 4
House of Books
10 N. Main Street
James Barron Art
17 Old Barn Road
Menniti Financial Group
12 Old Barn Road, 2nd Floor
Ober Gallery
6 N. Main Street
Ore Hill & Swyft
3 Maple
Panini Café & Gelateria
7 Old Barn Road
RT Facts
8 Old Barn Road
The Village Herbalist
5 Old Barn Road
Weantinoge Heritage Land Trust, Inc.
5 Maple Street
Western Connecticut Medical Group, P.C.
17 Old Barn Road, 1st Floor
Wyrick & Associates
17 Old Barn Road, 2nd Floor
Kent Barns
6 North Main Street
2nd floor
Kent
(203) 803-3580
info@kentbarnsct.com
instagram: at KentBarnsct
facebook: shops@Kent Barns