Our annual list of outdoor winter activities in the Northwest Corner.
Even with the temperatures hovering near zero, the blasts of Arctic air, and snow storms every few days here in the Litchfield Hills, it's hard to resist the beauty of the snow-covered landscape. So bundle up in layers and head outdoors to enjoy all that the season has to offer. From downhill skiing and snowboarding to ice skating and sledding, from taking a sleigh ride to tasting the naturally sweet goodness of maple sugar, we've made a to-do list to help you revel in the snow: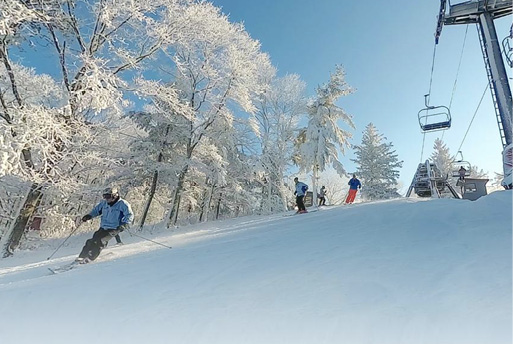 Down-Hill Skiing, Tubing & Snowboarding
Mohawk Mountain
Mohawk Mountain is the state's oldest and largest ski area. The family owned and operated resort offers down-hill skiing and snow boarding, with 19 open ski trails, 5 ski lifts and snowmaking coverage on 95 percent of the mountain. Daily night skiing (except on Sundays).
46 Great Hollow Road
Cornwall
(off Rte. 4)
office@mohawkmtn.com
860.672.6100
www.mohawkmtn.com
Ski Sundown
Fifteen trails serviced by 5 lifts with one hundred percent snowmaking coverage offering varied terrain choices for skiers and snowboarders of all abilities. Day and night skiing and snowboarding from early December through late March. Full service rental and repair shop, snowsports shop, modern and spacious lodge with two self-service food courts, apres ski lounge and mountain view decks. Showsports School offers group and private lessons for ages 4 and up.
126 Ratlum Road
(off Rtes. 44 & 219)
New Hartford
860.379.7669
www.skisundown.com
Woodbury Ski and Skate Park
It is the closest Connecticut ski area to New York City and the largest tubing park close to Manhattan. Known as the first ski mountain to open in New England, the 100-acre property has 18 trails from five lifts, 20 tubing runs and four lifts, two of which are magic carpets, and night skiing. Lights and snowmaking on 0.36 miles of cross-country trails. This year-round ski destination offers down-hill skiing, snow tubing, snow boarding, cross-country skiing, and skateboarding. There is a ski shop and food service.
Rte. 47
Woodbury
203.263.2213
203.263.2203
www.woodburyskiarea.com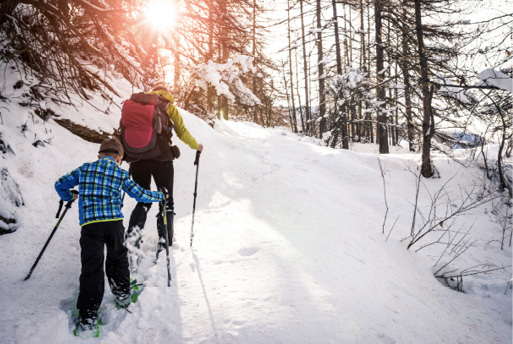 Cross-Country Skiing, Ice Skating, Sledding & Snowshoeing
Black Rock Park
439-acre Black Rock offers a variety of outdoor activities. Steep, wooded ledges covered with pine, hemlock and oak provide the setting for Black Rock Pond. Winter activities include cross-country skiing and ice skating.
Route 6
Thomaston
860.677.1819
Burr Pond State Park
Burr Pond is the 343-acre site of Borden's first condensed milk factory in the U.S. A scenic path encircles the 88-acre pond contained in the Park. Winter activities include cross-country skiing and ice skating.
Route 8
Torrington
860.482.1817
Cuyler Rink
Ice skating.
South Kent School
40 Bulls Bridge Road
South Kent
Dennis Hill
Dennis Hill, a 240 acre estate. A unique summit pavilion, located at an elevation of 1627 feet, is a popular attraction. Winter activities include cross-country skiing.
Route 272 south
Norfolk
Drady Rink
Open weekday mornings for skating: Mondays, Tuesdays and Thursdays from 9 a.m. to 1 p.m., Wednesdays from 9 to 10:15 a.m., and Fridays from 9 to 11:15 a.m. through February. The fee is $5 per skater per session.
Canterbury School
101 Aspetuck Avenue
New Milford
Hotchkiss School Rinks
Ice skating.
11 Interlaken Road
Lakeville
Housatonic Meadows State Park
Located in the rock-strewn valley of the Housatonic River amid the rugged hills of the Northwestern uplands, the 451-acre Housatonic Meadows is an ideal setting. Limited cross-country skiing.
Route 7
Sharon
860.927.3238
John A. Minetto State Park
This 678-acre Park was once the location of the first house constructed in the Town of Winsted. The rolling, open land was formerly known as Hall Meadow after the adjacent Hall Brook. Winter activities include cross-country skiing and ice skating.
Route 272
Torrington
Linen Rink
Ice skating. Open to the public for family skates on Sundays from 4:45 to 7 p.m.
Gunnery School
99 Green Hill Road
Washington
Macedonia Brook State Park
Macedonia Brook became the property of the State in 1918 through a gift from the White Memorial Foundation in Litchfield. Two peaks within the Park are near 1,400 feet in elevation and offer outstanding views of the Catskills and Taconic mountains. Winter activities include cross-country skiing.
159 Macedonia Brook Road
Kent
860.927.3238
Mohawk Mountain State Forest
With rugged hills, deep forests, panoramic vistas and 30 miles of trails, Mohawk Mountain State Forest in Cornwall is the ideal place for snowshoeing or cross-country skiing. Explore the Mohawk Trail, once part of the Appalachian Trail. The trail leads to Mohawk Tower, which offers a breathtaking view of the rolling Litchfield Hills. The cross-country skiing trail is another option that offers a sampling of the mountain's diverse landscape. Those in need of snowshoes can rent them at the nearby Housatonic River Outfitters, Inc. in Cornwall Bridge.
Mohawk Mountain Ski Area
46 Great Hollow Road
Cornwall
(off Rte. 4)
office@mohawkmtn.com
860-672-6100
www.mohawkmtn.com
Mt. Tom State Park
Mt. Tom is one of the oldest parks in the state park system; it is named for the mountain within its boundaries. There is a stone tower on top of the mountain which is a favored destination among hikers. The summit of Mt. Tom is 1325 feet above sea level, 125 feet higher than its Massachusetts counterpart. The tower trail is about a mile long and rises some 500 feet. Winter activities include ice skating.
Rte. 202
Litchfield
860.424.3200
Nadal Rink
Ice skating.
Kent School
Macedonia Road
Kent
Norfolk Ice Skating Rink
Ice Skating.
23 Mountain Road
Norfolk
Peoples State Forest
Along the Farmington River, this forest features hiking and cross-country ski trails. There are several tranquil trails here, including the Agnes Bowen Trail (Orange) which is a traditional 1930's ski trail. Distance – 2.5 miles.
East River Road
Barkhamsted
860.379.2469
Pratt Nature Center
A year-round resource where you can spend time enjoying the joys of nature in a carefully maintained environment. Miles of trails for snowshoeing are perfect for a family outing.
163 Papermill Road
New Milford
860.355.3137
Lufkin Rink
They offer three family skates to the public each year. Dates for the remaining two open skates will be announced. They also offer lessons to students and their siblings who wish to learn to glide across the ice.
Rumsey Hall
201 Romford Road
Washington
Salisbury School Rink
Ice skating.
251 Canaan Road
Salisbury
Topsmead
Topsmead is an English tudor mansion set on 511 acres. During the summer the house is open for tours. The grounds are open year-round and feature hiking, sledding, and cross country skiing.
Buell Road
Litchfield
860.567.5694
White Memorial Foundation
The White Memorial has miles of trails for cross-country skiing and snowshoeing. It is located in Litchfield on 4,000 acres, free and open to the public.
80 Whitehall Road
Litchfield
860.567.0857
www.whitememorialcc.org
Hopkins Vineyard & Macricostas Preserve
Bredeson Outdoor Adventures offers guided snowshoeing here.
Hopkins Vineyard
25 Hopkins Road
New Preston
860.868.7954
www.bredeson.com/warren
ice fishing
Before dropping your line into the icy waters, you must get a permit. Permits may be purchased at local town halls, tackle shops or through the Department of Energy and Environmental Protection's store.
Lake Waramaug
Bass enthusiasts can head to Lake Waramaug in Kent, rated one of the state's "Top Winter Bass Lakes" by New England Game & Fish magazine. Covering more than 656 acres, it is Connecticut's second-largest natural lake. During the winter season, anglers can pursue largemouth and smallmouth bass, brown trout, chain pickerel and yellow perch.
Lake Waramaug
Rte. 478
New Preston
Bantam Lake
At 947 acres, Bantam Lake sits as the largest natural body of water in the State of Connecticut. It is fed by Bantam River and Whittlesey Brook in the western part of the state. Fishing is excellent and there are more than an average of 20 annual bass fishing tournaments per year. Ice fishing is very popular here.
Bantam Lake, Morris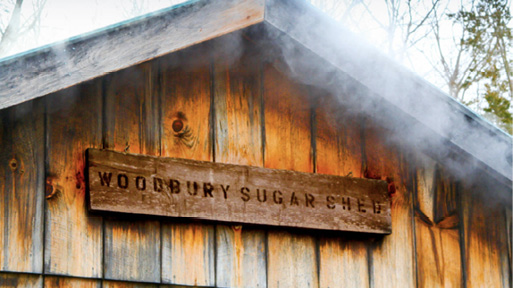 Maple Sugaring
To be sure sugarhouses are in operation, always phone ahead.
Anstett's Sugar Farm
The Anstett family welcomes you to tour their farm specializing in maple syrup for the past 30 years. Check the web site for hours and boiling times during the months of January through April. Hours are by appointment only during the off season, please call to schedule a time.
542 East Greenwoods Road
Norfolk
860.542.5013
www.AnstettsMapleSyrup.com
Brookside Farm
Open for visits mid-February through March. Maple syrup sold year round. Please call ahead.
79 East Chestnut Hill Road
Litchfield
860.567.3805
Brothers and Sons Sugarhouse
Open year round. Watch syrup being made during February and March. Free tours. Sugarhouse is accessible to the handicapped. Groups welcome. Call ahead.
998 Saw Mill Road
Torrington
860.489.2719
Dutton's Sugarhouse
Visitors may watch sap collection and syrup being made during February and March. Groups always welcome. Call ahead.
28 Sunny Ridge Road
Washington
860.868.0345
Flanders Nature Center Maple Sugar House
Each year Flanders taps and collects sap from dozens of trees at the nature center and around town. They have a lovely sugar house which is open for tours.
Sugar House at 
Flanders Nature Center
and Land Trust
5 Church Hill Road
Woodbury
203.263.3711, ext. 12
www.flandersnaturecenter.org
Great Brook Sugarhouse
Operated by The Youth Agency, the Sugarhouse is open to the public and syrup is sold year round. Educational tours of the sugaring operation are available. Call for info and availability. Open house weekends, which include displays of early sugaring techniques, are held during March. Call ahead for dates and time.
140 Park Lane
(Route 202)
New Milford
860.354.0047
Hilljack Sugar Shack
Open 7 days a week 8:00am- 6:00pm. There are extended hours for sugaring season. Visitors are encouraged to stop by anytime. Free tours of facilities. School groups welcome. For tours larger than 7, please call ahead to schedule.
74 Wilson Road
Litchfield
860.482.6052
Institute for American Indian Studies
They offer an annual Maple Sugaring Festival in March.
38 Curtis Road
(off Route 199)
Washington
860.868.0518
www.iaismuseum.org
Kasulaitis Farm and Sugarhouse
Open 5 p.m. to 8 p.m. Monday through Friday, and 11 a.m. to 4 p.m. on Saturdays and Sunday. See syrup being made in mid-February to the end of March. Phone ahead. Maple syrup sold year round.
69 Goose Green Road
Barkhamsted
860.379.8787
Laurel Brook Farm
Maple Syrup. Open all year. Phone ahead.
390 Norfolk Road
(at Route 44)
East Canaan
860.824.7529
Sullivan Farm
For the next 5 weeks, through the end of March, the staff and students will be tapping over 1600 trees and producing some of Connecticut's finest Maple Syrup.
140 Park Lane
New Milford
860.354.0047
West Hill Sugarhouse
Maple syrup for sale year round. Sugarhouse open during the season. Small groups welcome. Call ahead.
525 West Hill Road
New Hartford
860.379.9672
Woodbury Sugarshed
Sugarhouse open to the public. Saturdays and Sundays from February 28 through March 28 for maple syrup demonstration hours 1 p.m. to 5 p.m. Open daily year round. Phone ahead.
41 Washington Road
Woodbury
203.263.4550
info@thefarmwoodbury.com
www.woodburysugarshed.com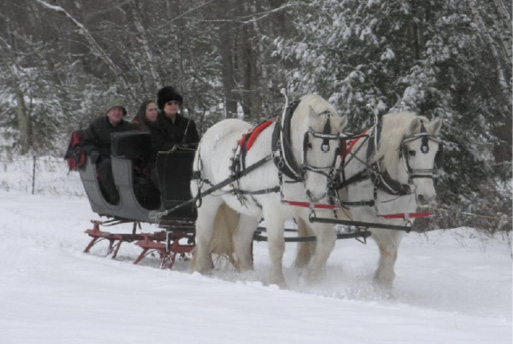 Sleigh rides
Loon Meadow Farm
Offerings include a two-passenger antique surrey sleigh (for couples) and the larger 10-passenger sleigh pulled by two horses. Winter sleigh rides are offered in antique sleighs complete with cozy lap robes, jingling sleigh bells and hot, mulled cider. Special accommodations for groups can be arranged.
41 Loon Meadow Dr.
Norfolk, 06058
(Jct. Rtes. 44 & 182)
(860) 542-6085
www.loonmeadowfarm.com
carriage@loonmeadowfarm.com
Interlaken Inn
Interlaken Inn's "Sleigh Ride Package" is available through most of the winter, and includes the sleigh ride, dinner, an overnight room and breakfast the next morning.
Interlaken Inn Resort and
Conference Center
860.435.9878
800.222.2909
www.interlakeninn.com