Grey New York Grey New England is a modern luxury accessories brand based in Litchfield County that partners with family artisans in Italy to create beautifully-made products.
Creative Director Simon Kneen's career reflects his passion for fashion and design. Simon has spent 30 years in the fashion industry across continents, beginning when he graduated from Kingston in 1982 and started his own studio in Italy. His vision has touched an impressive list of luxury brands including Armani, Krizia, GFT, Laura Biagiotti, Pedrini, Chico, Brooks Brothers, Adrienne Vitadini, the Gap's Banana Republic, as well as in collaborations with MadMen, L'Wren Scott, and Narcisco Rodriguez. He was the Creative Director for the Retail Brand Alliance, VP of Design and Head Designer for the French pret-a-porter house Maison Balmain.
Simon's newest venture is a fine leather goods brand called Grey New York Grey New England inspired by his lifestyle, traveling between a New York loft in the heart of Manhattan and a colonial farmhouse in the Litchfield Hills. Based in Washington, Connecticut, the company was started in 2016 (only online at first).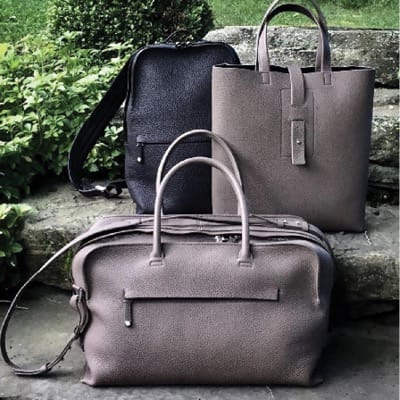 The fabulous Grey team is made up of the 3 partners—Simon Kneen is the CCO and Chief Creative Director; Paolo Secchia, CFO and Chief of Production and Operations; and Brandon Ferreira, is the Director of Marketing and Development, originally from Toronto, Canada. Paolo is from Modena, Italy, an ancient city known for its automotive industry with famous cars such as the Ferrari, De Tomaso, Lamborghini, Pagani, and Maserati, as well as its culinary achievement, the production of balsamic vinegar.
Simon and Paolo had worked on Brooks Brothers and Furla together, and Brandon and Paolo had worked together at Vince. Paolo oversees the heritage techniques and production of the Italian artisans and Simon unifies that quality of craftsmanship with his modern silhouettes and designs. Brandon oversees the Public Relations and Marketing presence while maintaining the online store. Together they are a force to be reckoned with.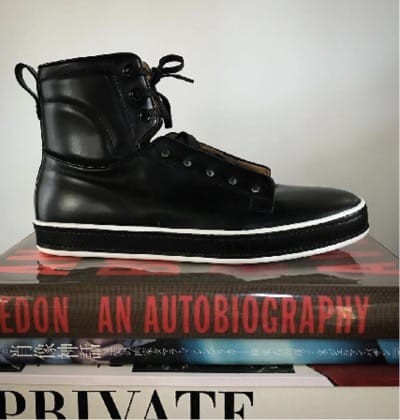 The Grey New York collection has a dynamic sporty look while the Grey New England collection is more about the refined, quieter life in the countryside. Grey New York is designed in smooth, supreme quality leather and a high-performance, water-resistant neoprene. The Grey New England pieces are designed with unique shapes formed by simple folding and minimal seams in a double-faced, natural pebbled Taurillion leather. The construction is unlined, crafted with hand-finished painted edge seams, hand-tooled palladium hardware, hidden zippers, and detachable straps.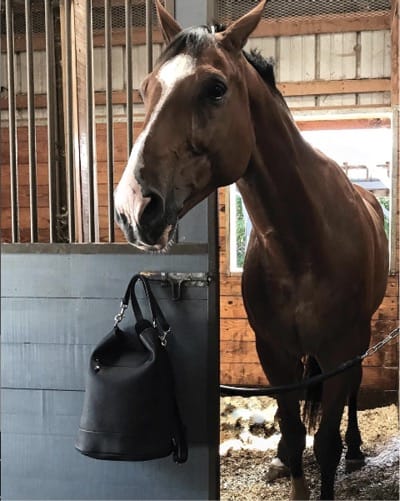 The Italian artisans use a heritage technique for the seams. It is a long process, some bags take 3 or 4 days to make (buffing, painting the edges, etc.). The hand-painted edges of their New England Duffle Bag are patiently stained and dried multiple times over a six-day period. The palladium hardware is all designed by Simon. The brand is timeless and classic, yet modern. Kneen says, "I do not want to think about seasons or seasonality, let alone trends. I want to make beautiful things that people want to own for a lifetime."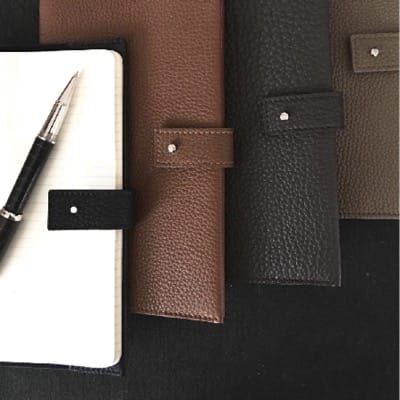 In contrast to mass production, all of the brand's products are handmade, sustainable (using ethical methods and practices, and the use of vintage, up-cycled furs), and affordable. They use the best materials, the best artisans, using the best finishing by dealing directly with artisans in Italy, they can keep the quality up while making the products affordable. Most of the bags are made with one or two skins, creating fewer seams, making it more durable and less heavy.
The broad range of product styles offered in the collection is a crossbody, tote, purse, messenger, duffel, backpack, men's and women's shoes in slip-on, high-top, sneaker, wallet, passport case, billfold, document case, music case, and belts. Everything has a gender-friendly appeal in naturally inspired tones.
They now have a new line of bags made from up-cycled furs (mostly unwanted coats and jackets). They use vintage furs from Italy and recondition them to bring back their beauty and life. It's a time-consuming process because of sewing together the small skins using a very specific technique, but well worth the beautiful results.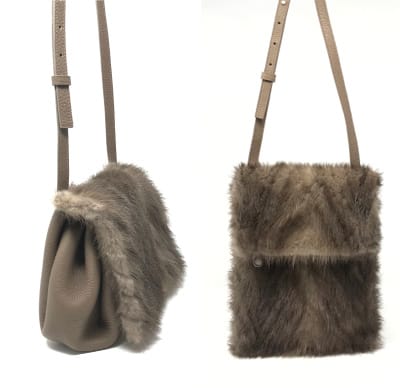 Grey New York Grey New England sold out at their first trunk show in Barney's New York last year. Recently, they just relaunched a new set of trunk shows with Barneys at Madison Avenue and Downtown.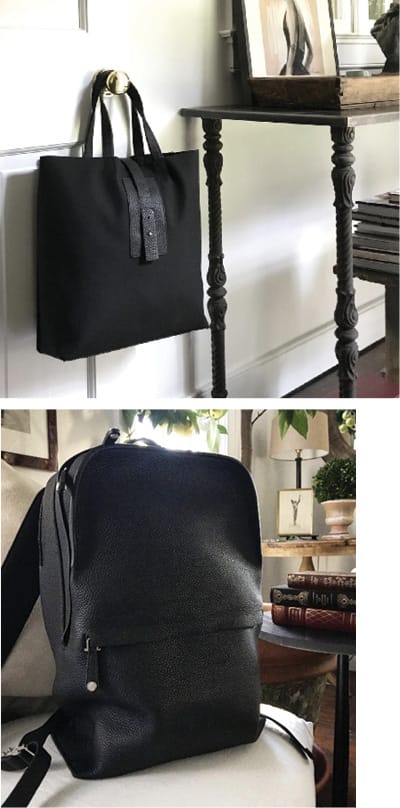 Grey New York New England is available at Barney's in New York City and Beverly Hills; J. Seitz & Co. in New Preston; Richards in Greenwich and Mitchell's in Westport, CT; and Blue Carreon Home in Long Island.
Also online at www.greynewyorkgreynewengland.com
info@greyluxuryprojects.com
www.gnygne.com
Instagram @greynewyorkgreynewengland
#gnygne #greybagcouture