Seasoned design gurus Wilson Henley, Bruce Glickman, and Betsey Nestler have just opened George Home—a new store and design studio featuring furniture, accessories, and gift items. 
In keeping with the tradition of Litchfield County as the shopping destination for all things related to the home, we welcome another great resource: George Home. Located behind the Pantry in the Depot, George is a well-curated collection of global design, including mid-century modern and antique furniture, art, table top and accessories.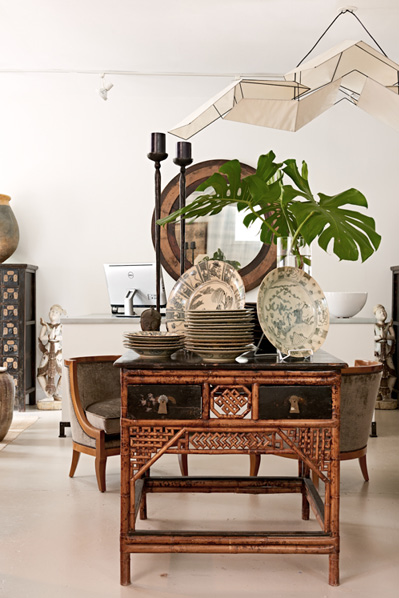 The brainchild of Wilson Henley, Bruce Glickman, and Betsey Nestler, the shop features mid-century modern pieces by T.H. Robsjohn-Gibbings, Karl Springer, and Tommi Parzinger. Terence Harold Robsjohn-Gibbings was a British-born architect and furniture designer who also designed ocean liner interiors and art directed films. In the late 1930s and 1940s he was the most important decorator in America. Karl Springer was a designer and manufacturer of luxury furniture and a wide array of accessories beginning the '50s and continuing through the '80s. Tommi Parzinger was a German furniture designer and painter who started his first company in New York city in 1939. His works were collected by famous clients, including Billy Baldwin, Marilyn Monroe, and a number of high-fashion New York families.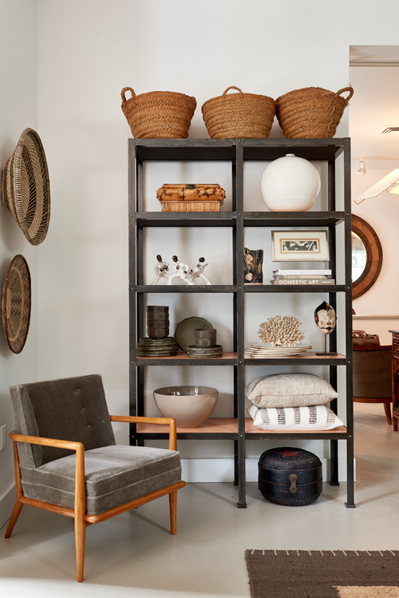 It's no surprise that the three partners chose Washington as the place to launch their new business—they have a long history with the Northwest Corner. Bruce and Wilson have been coming to Litchfield County for 30 years on weekends and holidays, and now live here permanently. Betsey has been here for at least 30 years, probably longer. All three have years of experience with home decorating and retail.
Bruce and Wilson opened their first shop in New Preston with Garden House, then moved on to a business called Duane in NYC for about 15 years. Betsey Nestler ran a very successful shop called Jonathan Peters in New Preston for many years. After closing JP, they all collaborated on a shop called Betsey and Duane, again in New Preston. They have known each other for over 20 years, and every time they got together, they'd talk about opening a store. When the right spot came along in the Depot, they took it.
"While George incorporates some aspects of Duane—some of the furniture and art, for example—we've expanded our focus to include more table-top and gift items," explains Bruce. The shop carries a large selection of soaps, candles, men's accessories, cocktail napkins, table settings, beautiful linens from Canada, and hand blown glass from upstate New York. They also offer small purses from Stubbs & Wootton. Along with the vintage and mid-century modern furniture, are their own designs originally manufactured for Duane. Nestler brings a more global design sense to the mix – pieces from and influenced by Chinese and African artisans. To bring it all together, George Home also provides interior design services.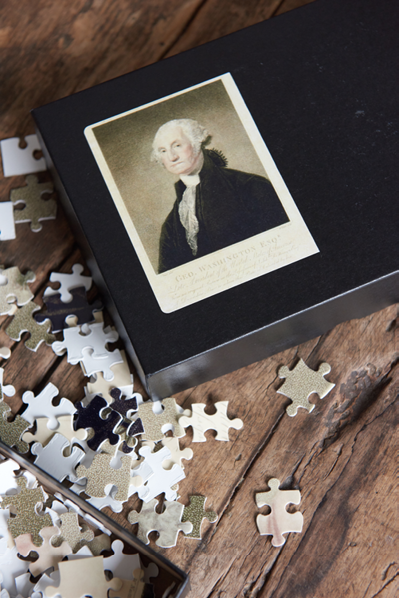 "We've been doing this for so long," says Wilson. "We'll offer what people have responded to and what's dear to our hearts. Going forward we hope George will become another valuable design resource in Litchfield County. We'd also like to collaborate with some of the many talented local artists, designers and writers to showcase the creativity of the area."
Stop by and take in the exquisite displays created by these three creative tastemakers, and on your way out look above the entrance to the shop where there's a silhouette of the first president, the shop's namesake.
Open Thursday – Monday, 11-5:30 or by appointment.
George Home
4 Titus Road
Washington
860.868.0323
georgehomect.com