Inspired to extend his ailing dog's life, Paul Gallant turned to a holistic approach by cooking organic pet food. Now, all of our pets can benefit from his new business: Paul's Custom Pet Food.
More than four years ago, Paul Gallant's dog—a golden retriever puppy named Hunter—was diagnosed with cancer and given less than 6 months to live. Opting out of the recommended surgery to be followed by chemotherapy and radiation, Paul approached Dr. Hanna Wells, a traditional and holistic veterinarian who practices Traditional Chinese Veterinary Medicine (TVM) at the Health and Wellness Animal Hospital in North Hampton, New Hampshire. After reviewing Hunter's files and doing an exam, she said to Paul, "Will you cook for your dog?" He responded with a resounding "yes" and Dr. Wells suggested treating Hunter with a combination of a natural diet and herbal treatments. So Paul took her advice and made a pact with Hunter. He said to his beloved pet, "If you keep living, I'll keep cooking for you."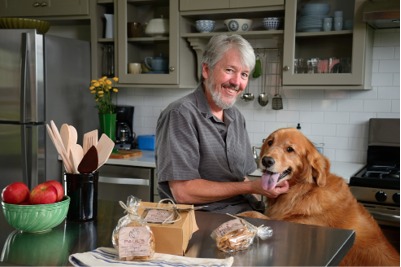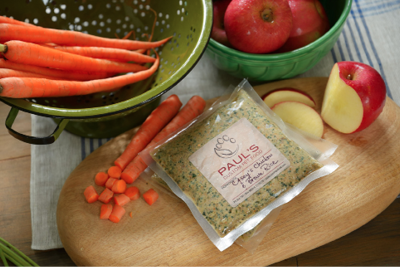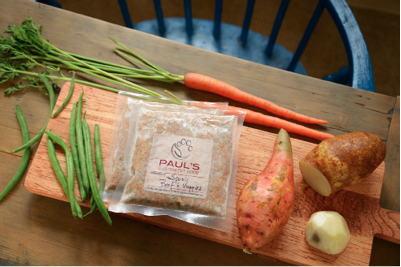 Hunter is now 7 years old and completely free of cancer. He stopped his herbal treatments two years ago, but he still keeps eating Paul's meals and treats. Inspired by the success of Hunter's story, Paul decided to build a business cooking and selling natural  pet food. And so Paul's Custom Pet Food was born.
Paul Gallant grew up in a family of seven kids. "Who's cooking tonight?" was commonly heard at home. He doesn't have training in the culinary arts, but Paul enjoys cooking and has educated himself in the nutritional and medicinal benefits of natural, unprocessed food. Back in Exeter, New Hampshire, Paul worked in masonry in the construction business. He and his wife Lynn—and Hunter, of course—recently moved to New Milford and created their unique brand of pet food. The business has taken off and orders are coming in.
"We create homemade meals and treats for dogs and cats that are fit for human consumption—no fillers, no preservatives, no artificial ingredients. Every meal begins by sourcing fresh and humanely raised meat, fish, fruit, vegetables, and whole grains. We make every effort, whenever possible, to buy local and organic ingredients. All are free of genetic engineering, synthetic chemicals, growth hormones, unnecessary antibiotics, and preservatives. Each meal is handmade in a state-certified kitchen, and delivered or shipped to your door fresh-frozen to maintain nutritional integrity," says Paul as he explains why his pet food is so much in demand.
He sources his ingredients from small, local farmers and businesses within a 20-mile area. He cooks with free-range chicken and grass-fed beef, and fish that are raised ethically and sustainably. The vegetables and fruits he uses are local, organic and fresh such as kale, broccoli, parsley, carrots, apples, pumpkins, and kidney beans. Whole grains like brown rice, quinoa, polenta, and barley are combined with proteins and vegetables and cooked with broth and eggshells. "We believe that holistic and responsibly-sourced meals are not only better for your pet than food filled with chemicals, fillers, and preservatives, but that supporting local agriculture and small businesses contributes to a just and healthy food system and economy."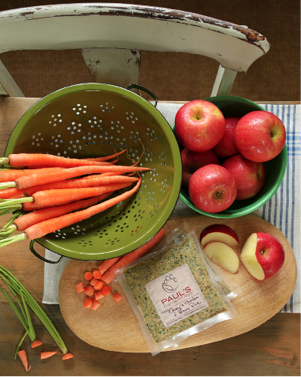 The line of handmade, fresh-frozen dog and cat food is veterinarian-approved. Paul's handmade, fresh frozen dog food comes in 3 different flavors: Spud's Beef & Veggies, Hunter's Beef & Greens, and Casey's Chicken & Brown Rice. (Yes, every item on the menu is named after a pet in their extended family.) Each 1-cup serving is $4.25. The cat food comes in 2 flavors: Zeke's Salmon & Quinoa and  Midnight's Beef & Polenta. Each 1/2-cup  serving is $2.95. Treats are Organic Pumpkin or Pumpkin Peanut Butter Cookies. Paul also takes special orders to meet the specific needs of a pet, and will work with pet owners and veterinarians, or pet nutritionists.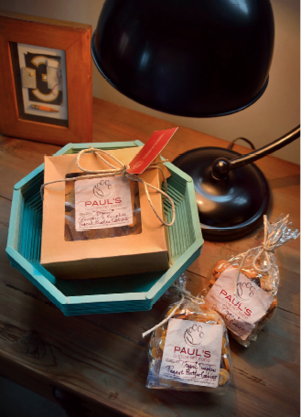 All of the meals are cooked in a crock pot and packaged in vacuum-sealed bags that go in the freezer. The meals are fresh-frozen to maintain nutritional integrity and longevity and delivered or shipped frozen. You can purchase a 30-day supply and thaw a packaged meal overnight in the fridge three days in advance. The pet treats are delivered or shipped fresh.
If you are considering changing your pet's meals to an all-natural diet, Paul recommends switching your pet's food a bit at a time. "Changing your pet's diet is a slow process. We suggest giving them a quarter cup at first, not a full cup. You can mix it into your pet's bowl of kibble. Gradually, the dog or cat adjusts to the new food and you can eliminate the processed foods completely from their diets."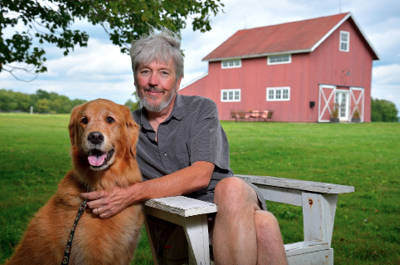 Paul sells his custom pet food at farmers' markets and finds it rewarding to educate the public and to spread the word on the benefits of serving organic pet food to animals. This summer, he can be found every Thursday at the Westport Farmers Market. Eventually, the meals and treats will be sold in selective stores in Litchfield County and beyond. As their customer base grows and more pets in the Northwest Corner turn to eating well with Paul's Custom Pet Food, we wish Paul and Lynn prosperity in their new venture. With Hunter as their mascot, they are sure to succeed.
To purchase Paul's Custom Pet Food, call or order online. See contact information below. There is a five-day turn-around between an order and delivery or shipping. Delivery is free within a 15-mile-radius of New Milford. Delivery charges beyond a 15-mile-radius are dependent on location and they will ship upon request. 
Paul's Custom Pet Food
PO Box 794
New Milford
603.706.0739
paul@paulscustompetfood.com
paulscustompetfood.com