With only a handful of Sundays left before it closes for the winter season, it's
time to get in a few more trips to the Elephant's Trunk Flea Market.
You may have to layer up in sweaters and jackets in November, but take comfort in knowing that you'll soon be warm from walking the rows of dealers selling their wares at New Milford's Elephant's Trunk Country Flea Market under sunny blue skies. The bonus is that you get to enjoy the fired-up fall colors painting the beautiful hillside that serves as a backdrop to the market. Going to the "Trunk" on a Sunday morning is a time-honored tradition for folks in the Northwest Corner. The grassy fields—originally used to grow alfalfa—have been filled with antiques and collectibles (not to mention loads of parked cars) every Sunday since it opened for the first time, in 1976. It is the largest flea market in New England, at 55 acres, with enough spaces to accommodate 475 dealers.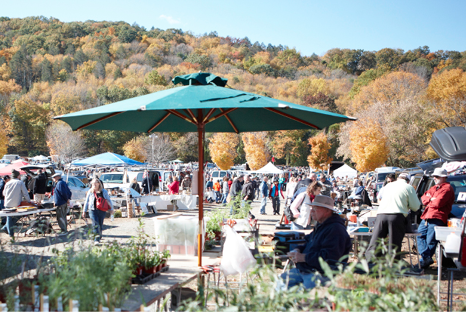 If you are a die-hard antiquer, or if you own an antiques shop, then you are used to getting to the "Trunk" in the wee hours of the morning, when the gates are opened and the vendors have just finished setting up, and the excitement is building. It's an intoxicating moment for those who thrive on the rush of the hunt. But then there are the amateur collectors and "junkers"—the rest of us—who are just as happy to arrive at a more reasonable time, wandering in after enjoying a leisurely breakfast at a nearby diner. After all, there's plenty of stuff, so what's the rush? There's much to peruse, lots of curiosities, and such a huge variety of merchandise that changes every week. Which means there are constantly new opportunities to discover treasures and haggle your way to a price you like (yes, haggling is encouraged!).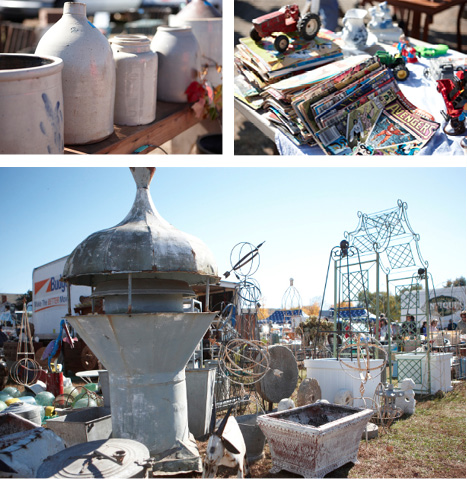 From local families to weekenders from New York, many patrons are loyal regulars and others stumble across the Elephant's Trunk by chance, driving by and wondering, as the traffic in front of them slows down, what the fuss is all about.  By 11 a.m., lines start forming in front of the food trucks—people with a hankering for a ham and egg sandwich, a Korean taco, a Texas long dog, fried dough, fried chicken, Italian ices, lemonade, popcorn, and ice cream. Whatever your pleasure, there's probably a food truck to match.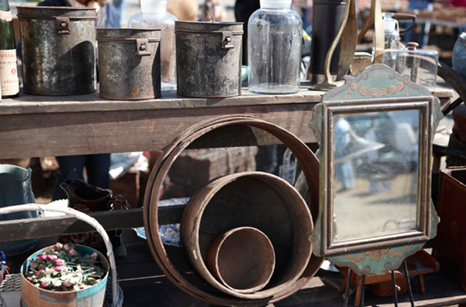 As you are strolling the aisles, your eyes scanning over the multitudes of items on display, it is likely you will get distracted by the sight of someone carrying an enormous unidentifiable object back to their car. And you can't help wondering 'what on earth are they going to do with that thing?' Or you might find yourself thinking 'how did I miss that fifties lawn chair they're taking home?' There are plenty of interesting folks to observe during the ritualistic banter between vendor and customer. There are quirky types who spend an eternity inspecting every inch of an item while you wait patiently hoping they walk away so you can grab it. A vendor might keep you captive while he spews the entire history of an object to you. The chatter coming from the vendors among themselves, the conversations of people going past you or congregating in front of a table can be downright entertaining. You come to lovingly enjoy and even look forward to these fleeting moments, and you know the 'flea culture' is alive and well at the Elephant's Trunk. As one fan from Brooklyn said, "If you are silly for flea markets, then this is your dream come true. Go early and wear sunscreen because you're going to be there a while."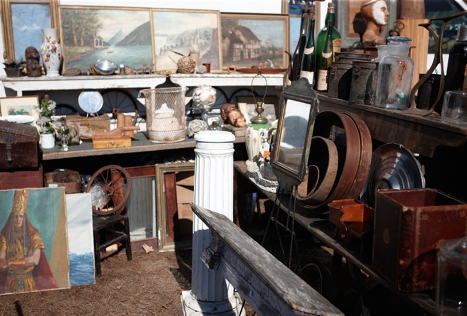 If buying old stuff is not your thing and you came along with a friend, the people-watching alone is totally worth the trip. Relax and enjoy being outdoors, moving your body, and being a part of saving our environment. For every piece that goes to someone's home is one less that ends up in a landfill. Junkers and antiquers feel good about taking an old piece, repurposing it, and giving it a second chance. Buying an object with the patina of a past life is not only visually appealing, it is also philosophically satisfying.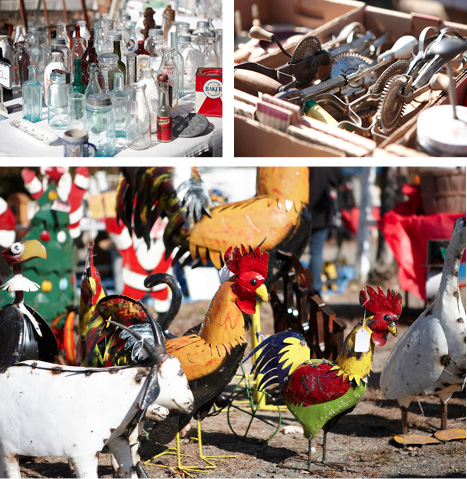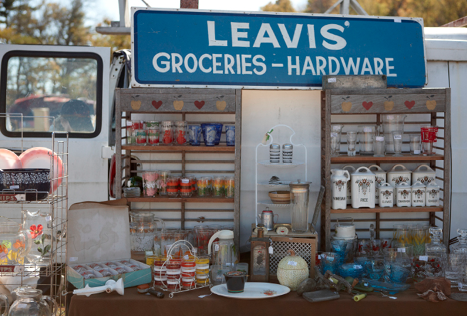 When you're done snagging your booty for the day, you may wonder how you're going to haul it all back to your car? The Trunk has thought of that solution, too. There are complimentary trolleys on wheels available at the two entrances. You might have to wait a few minutes until someone returns an empty one—they are very popular. You can also count on vendors to help carry large, awkward pieces to your car. Of course, the experienced collector comes equipped with a rolling grocery cart or large back pack, plenty of bags, bottled water, a hat, and small denominations of cash. And as they're driving away from the market with the car loaded up, they are already thinking about next Sunday.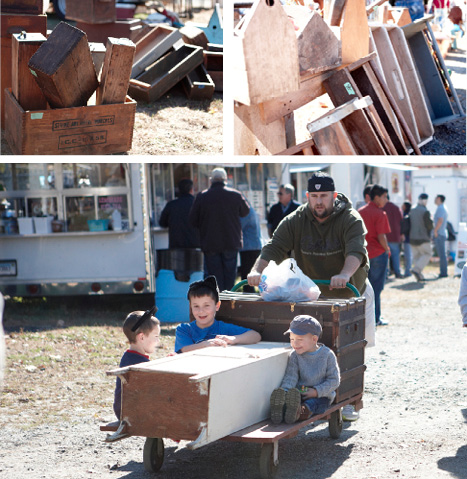 The Elephant's Trunk is open every Sunday from March 17th to December 8th, weather permitting. Regular admission is $2.00 per person (over the age of 10) from 7am to 2pm. Early buyers pay $20 per person from 5:45 to 7am. Pets are not allowed, not even in the parking lot.
Elephant's Trunk Country Flea Market
490 Danbury Road (Route 7) in New Milford
508.265.9911
info@etflea.com
www.etflea.com