One of the Northwest Corner's hidden gems, Maison St. Germain is bursting with vintage painted furniture, home decor, art, and clothing. Meet the two women behind it.
Woodbury may be known as the Antiques Capital of Connecticut, with its plethora of great antiques shops specializing from French Canadian to 20th Century Modern, but one of our favorites is the unassuming and delightful Maison St. Germain. Tucked away in the back of a parking lot off of Route 6, this vintage shop hosts an explosion of colors, shapes, and textures. The mother/daughter team who run it are just as dynamic and creative. We spoke with Nicole Perez and Debra Germain about their sense of style and their love for all things vintage.
What are your backgrounds? Have either or both of you studied art, art history, or interior design? Do you have experience in dealing with antiques?
Debra: We have always lived with antiques. I learned to appreciate them from my grandmother. I have been collecting my own antiques since 1979. I am an artist. I studied art in the 80's and did mainly pastel portraits. Painting is what I most enjoy now.
Nicole: I come from a family of incredibly talented artists. I grew up going to the Woodbury Flea Market every Saturday morning and visiting tag sales along the way. I learned about antiques from my parents and would research pieces I saw at the markets. My mom has always encouraged me to use my creativity and she has been a huge inspiration. I have a certificate in Culinary Arts, and a degree in Fashion Design & Merchandising.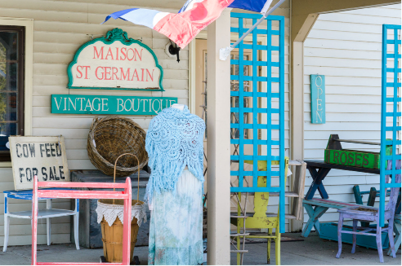 Prior to opening Maison St. Germain, did either of you work in retail?
Debra: I have always had my own business of one kind or another, whether I was selling my art or owning a pet shop.
Nicole: I actually worked on the other side of retail. I was an Import Manager and Design Assistant for a wholesale furniture company. It was an amazing experience working with factories from all over the world.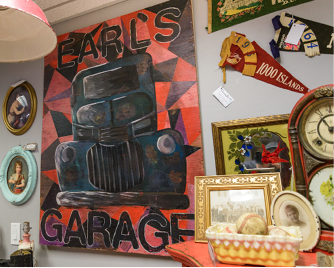 How did you decide to work together? Do you each have specific roles within the company? Who does what?
Debra: Nicole is so talented and always has so many fabulous ideas that it was just a no brainer to open up a shop. We wanted a shop where everyone would be able to go home with something that spoke to them. We are always bouncing new ideas off each other and wouldn't want any other partner in business than her.
Nicole: It kind of just happened. I was pregnant with my second daughter and was planning on working part time when she was born. My mom called me and said "I think we should start our own business doing what we love." And of course I said "Let's do it!" It started as an online business in 2008. We did really well and had clients from all over the world. Every year kept getting better and we both decided that we would like a brick and mortar store.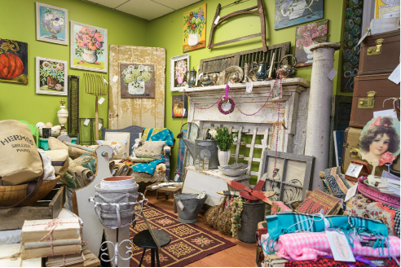 Does your relationship as mother/daughter sometimes get in the way of the professional partnership, or does it make it easier?
Debra: Working with Nicole is just so much fun! We each have our own talents and ideas and they seem to work well together. I think our vintage shop reflects that. I love her and our shop. I always want to come to work.
Nicole: We are both so much alike, yet so very different. We definitely balance each other out and work well together. There's nothing like collaborating on something with someone who is genuinely as excited as you are. It makes the whole experience special. I think it works for us and would never chose anyone else to do this with. She's the most creative person I know.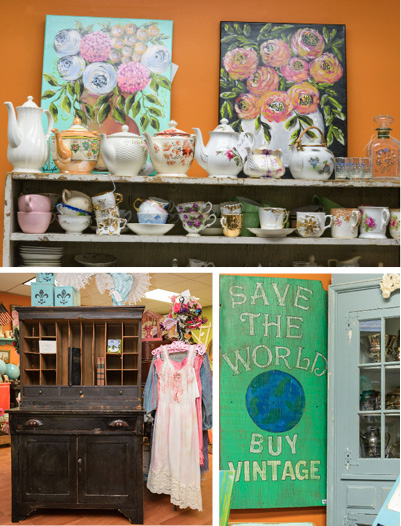 How would you define your style and the style of the pieces in your shop?
Nicole: This is a question we get asked a lot. Our style is our own. It's definitely original and recognizable. If we do shows, people look at our space and immediately know it's us. My mom and I both each have unique styles and together we create a completely different one. With that being said, our individual pieces can fit into anyone's home.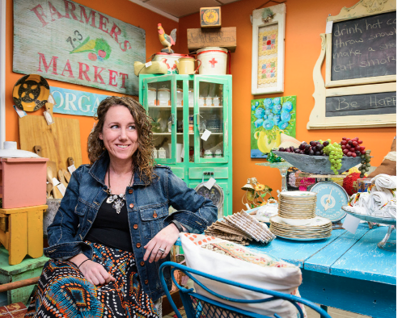 Do you carry any new items or only used, second-hand pieces?
Debra: We carry 99% vintage pieces. Every once in a while we will find new items that are vintage inspired and decide to stock it. We stay clear of reproductions though.
What kind of custom work do you do?
Debra: We do custom painted furniture and create art for clients. We also stage and restyle homes. We really enjoy helping people put together a beautiful room that reflects who they are.
Where do you source your finds (or is that a secret?) and how do you decide which pieces to sell as is and which pieces to enhance by refinishing?
Debra: Nowhere is safe. We shop markets and estate sales up the East Coast. We plan on doing even more traveling this year. Clearly, we have the best job in the world. The pieces we choose have to have good bones. We love pieces that have detail that will be made even more beautiful when we paint them.
Nicole: I choose to paint the pieces 99.9% of the time. However, there are times where my mom will see the beauty in an antique stained piece and warn me not to paint it.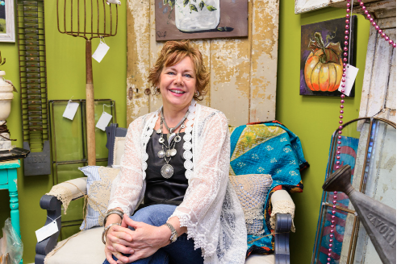 Who are your customers? Local residents, weekenders, tourists, the online community?
Nicole: We truly have the best customers. The benefit of previously having an online boutique and doing antique shows, is that your customers are literally from everywhere. When we stopped selling online, we had people travel from New York and Massachusetts just to see us. We even have our regulars who come in on their way to Brimfield. We also have the most wonderful local customers. When we decided to move from our smaller location, we were in limbo for a bit. We weren't sure where we were going. During this time, the support and encouragement from them was overwhelming.
What percentage of your business is online?
Nicole: We don't officially sell online anymore. However, we do have a Facebook page and often get people from out of state who ask us to ship them items we post.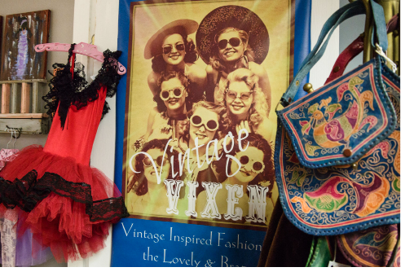 Could you tell us about your fashion line of clothing and accessories?
Nicole: Our line is called Vintage Vixen. It has a Bohemian feel while holding on to its romantic vintage origin. It blends both our styles making the line unique and soulful. Each vintage piece is carefully curated then hand dyed and embellished. Every article of Vintage Vixen is versatile and can be worn to express your own personality. If you're sweet and modest, wear one of our Prairie Slips with a jacket and leggings. If you are edgy, wear a petticoat with a tank and cowgirl boots.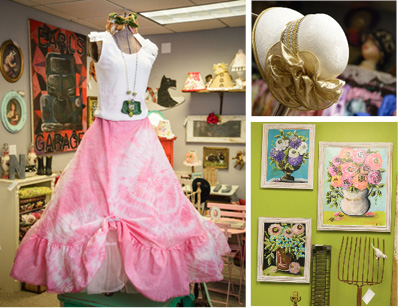 What are your goals for the future of Maison St. Germain?
Nicole: Our goals are to expand our clothing and accessory line, Vintage Vixen. I would also like to start creating our own furniture. But honestly, Maison St. Germain has a mind of its own. It keeps evolving and we just go with it.
Debra: A book or two will also be in our future. This business has given us so many blessings of opportunity. We are truly grateful.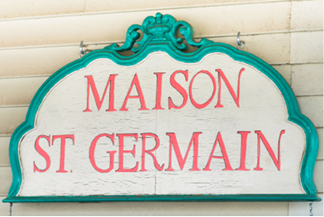 Hours: Closed Mondays and Tuesdays. Open Wednesday through Saturday, 11am to 5pm, and Sundays, 12 to 4pm.
For more information or to order a custom piece, contact
Debra and Nicole at: sales@MaisonStGermain.com
Maison St. Germain
744 Main Street South
Woodbury
(across from Carmen Anthony's
and behind Tillie's Antiques)
203.266.4223