The owner of Zero Prophet Coffee, Nicholas Benson is spreading the joy of coffee and keeping Litchfield County residents happy with his flavorful coffee beans, roasted fresh to order.
Nicholas Benson's first coffee memory is of Turkish coffee. Not your typical kid's fantasy. But then, young Nicholas's life was far from typical. His mother was an independent translator of Russian books and articles. His father was the public affairs officer at the United States Embassy in Moscow. As a diplomat's son, he lived in Moscow, and traveled to many places such as Belgrade (now Serbia). Nicholas recalls that there was an Italian cook in the cafeteria at the American Embassy in Moscow during the '70s. The cook was very Italian. He drove a sports car and roasted his own espresso. As a young child, Nicholas was fascinated with him.
Later, as a teenager visiting Italy, Benson would walk into the local coffee shops and watch the barristas at work. It was a powerful experience for him. He wanted to recreate what he had seen in Italy—fresh, high quality coffee. At the time, the U.S. was lagging in coffee culture. Starbucks didn't exist back then.
A cup of coffee and a book of poetry… Nicholas Benson is an English teacher at the Gunnery School in Washington. He also translates Italian literature (poetry, books, a short novel). He loves cooking, and he loves coffee. Since 2007, he has been roasting his own coffee beans. He turned his passion for coffee into a business, and now he is a micro-roaster. He has a loyal following in Litchfield County.
In a small, white building on his property, Nicholas Benson keeps his pride and joy: a Diedrich roasting machine. It is bright red and beautifully maintained, like a car. It is only one and a half years old, but built to last. It is here in this fragrant space that Benson operates Zero Prophet Coffee, a small, local business that sells freshly roasted coffees. There are 12 different kinds of coffee and two blends. His house style is Vienna Roast, which is equivalent to a Northern Italian Espresso. Bat Guano is a blend of Central and South American beans and Romford is a mélange of three differently roasted beans. There are subtleties to the flavor notes in the coffees, just like in wines.
Uganda is the darkest, and Sumatra is earthy. Chiapas is more floral, and has a lighter body. Brazilian is a softer bean, and the lightest of all the beans. He carries one decaffenated coffee, which is water-processed, a chemical-free process. It comes from a co-op in Honduras. He says it is surprisingly good. It is less acidic than regular coffee due to the water-process.
Almost all of Benson's coffees are certified organic. So where exactly do his beans come from? He is not sourcing the coffee beans himself because it is too expensive to travel, instead he uses an importer, such as Royal Coffee New York and The Coffee Shrub. The beans come from Africa, Indonesia, Central America, and South America. His beans are roasted fresh to order and packaged in simple compostable bags.
You can purchase Zero Prophet Coffee at the Washington Farmers Market in the Depot on Saturday mornings. The Washington Food Market and the Smithy in New Preston sell his coffees all year round. Or you can order directly from Benson at email zeroprophetcoffee@gmail.com. He will deliver if you live in the Washington, Connecticut area. Local resident and professional floral designer, Lorretta Stagen loves Zero Prophet Coffee. She says, "My favorite Zero Prophet coffee bean is Sumatran. It is a medium roast with an excellent coffee flavor without being too strong. All of my guests love it, too."
Benson sells 1 pound bags to individuals and 5 pound bags to restaurants and cafés. A one-pound bag is $16. One dollar per ounce is typical. Community Table restaurant has been serving his coffees to their customers for years. The Washington Montessori School serves it to their faculty and their guests. The Gunnery serves it at their Senior Coffee. There are other roasters with other styles, in the area, but Benson is not competitive. Since he has a full-time position as a teacher, he keeps his coffee business small and manageable. He has no plans to expand but he is thinking of developing a molé sauce and a mocha sauce by teaming up with a friend. Or perhaps he might work with a brewer on developing a beer made with coffee.
For now, Nicholas Benson keeps it simple, "To get a good cup of coffee, the coffee has to be ground fresh just before drinking." He should know—he drinks at least 5 cups of coffee a day.
Espresso
Black coffee at sidewalk cafes
With chairs and tables like gaudy insects.
It is a precious sip we intercept
Filled with the same strength as Yes and No.
It is fetched out of gloomy kitchens
And looks into the sun without blinking.
In daylight a dot of wholesome black
Quickly drained by the wan patron…
Like those black drops of profundity
Sometimes absorbed by the soul
That give us a healthy push: Go!
The courage to open our eyes.
by Tomas Tranströmer
(Translated from the Swedish by May Swenson and
Leif Sjöberg from Windows and Stones: Selected Poems
by Tomas Tranströmer.)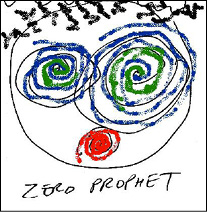 Zero Prophet Coffee
Washington, CT
zeroprophetcoffee@gmail.com
www.zeroprophetcoffee.com