Founder of the Global Peace Movement, Theresa Joseph is an intuitive healer and spiritual mentor with an energy healing practice in Litchfield.
Theresa Joseph used to work a 60-hour week in the foreign exchange trading room at IBM, where she was a banking relations manager. With a BA in Economics and an MBA in Banking and Finance, she had settled in comfortably at the Fortune 500 company for 18 years. But in 1996 she realized that she wanted to spend more time with her children, and decided to work part time, cutting back her work schedule to 30 hours a week (almost a typical work week for most folks). Shortly after, she was invited to take a yoga and Reiki (universal life force energy) class with friends. She was very skeptical and felt that energy healing was nonsense. She thought her friends had too much time on their hands. But she continued with the classes, and eventually she felt the energy. She enrolled in Reiki lessons (studying under Heather Cumming, a Reiki Master and Shaman), practiced on her colleagues who were foreign exchange traders; completed three levels of training; and became a Reiki Master. In 1998, she made it her life's work—she left IBM to do it full time and opened a practice in Greenwich.
Born into a Catholic family, Theresa went to Catholic school until third grade when she moved into public school. Her family was not religious. Her parents would drop their four kids off at church and Sunday school, then return only to pick them up. All these years later, through her Reiki and meditations, Theresa began receiving messages from the Divine. As with her financial career where she was known for initiating paradigm shifts, Theresa shifted from practicing Reiki to what she calls channeling grace to more accurately reflect the Divine's role in her healing work. By channeling grace, the freely given love of the Divine, she is empowering clients, whether in private sessions or in her healing circles, to know their own divinity and to develop a personal relationship with the Divine. She says that she is just the fascilitator, this Divine Love is already there for people. Now, through meditation and channeling, Theresa Joseph heals and enlightens those who are seeking a greater connection in life. "Channeled Grace is the acknowledgement that the universal life force energy is Divine Energy or Divine Love, which is healing."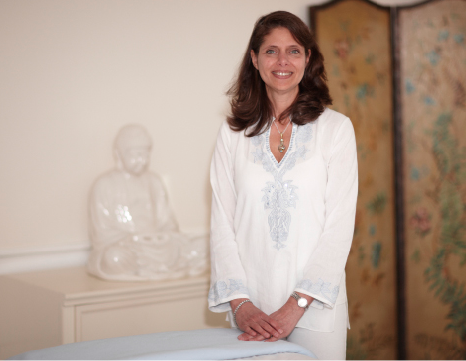 "People contact me for many reasons. They sometimes want to deepen their faith, have a more experiential relationship with God, heal an emotional or physical wound, or accelerate healing following surgery. Some are looking for more inner peace…the list is endless and as varied as my clients."
A typical private Channeled Grace Healing Session begins with Theresa explaining what the client might feel or experience while she is working, which is a sense of inner peace or a glowing radiance as God's grace flows through them. Theresa says, "It can be helpful for the client to share a bit about what they would like healed, however, that is not necessary because it is God's grace that heals, not me. Miracles are God's medicine and although I have seen many in this work, I do not claim them as my own." In the session the client is laying down on a massage table, fully dressed, with eyes closed. Theresa stands at the head of the table, eyes closed as she connects with the Divine. It is almost identical to a Reiki session except that she is not typically moving around the client's body. After the Channeled Grace Session is complete, Theresa spends time with her client to review any visions or messages that she may have gotten on their behalf.
Asked if she sometimes has clients who are a bit dubious, Theresa answers, "People do not have to believe in this for it to work. I love working with skeptics because even they are amazed at the transformative healing power of the grace that flows through them. I was a skeptic when I first started this work, so I completely identify with them."
When asked how many sessions a person should expect to go through, Theresa explains that some people need only one session to heal while others may need several. There is no formula—it is very specific to the individual client.
She also holds group sessions or circles with her associate, Linda Fallo-Mitchell, who is also the director of the Global Peace Movement. There is no limit to how many people can participate in a group session. "The healing is still very powerful, however, the difference between a group and a private session is that I will not receive specific messages for each person in the group."
One day, while meditating, Theresa received a message to paint. With no experience or training, she asked Ste. Therese de Lisieux for help, "Show me what to paint." She began to create beautiful light-filled images in oil paint, that depicted her visions. This resulted in the "Starlight Series." Now she is an artist and has sold many of her works. She takes commissions, guided in meditation by Ste. Therese de Lisieux for her recipients, and they are healed by the energy of their paintings.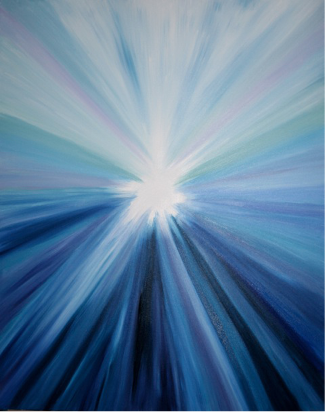 A little over a year ago, Theresa received a message in the middle of the night from the Divine to sell her house in Greenwich and to go north and look in the middle of Connecticut. She was happy in her home and didn't want to move, didn't want to leave her friends behind, so she resisted. But the messages kept coming back. She struggled with it, but finally came around. She and her husband found a home on a farm in Litchfield and moved in. "The people here are so great, open and welcoming. And very interesting folks."
In addition to her Channeled Grace practice, Theresa has a blog called Everyday Mystic, and runs The Global Peace Movement which was founded on the idea and science that by embodying the feeling or vibration of love, we can change the world. Studies have shown that there is power in numbers and the more people who embody the vibration of peace, the more quickly we will see a shift in global consciousness. There are satellites in space that measure electromagnetic fields. Fifteen minutes after  Princess Diana died, they recorded a huge spike, due to an enormous outpouring of love. A similar result occurred shortly after 9/11. Theresa says that we are told to lead by our brains, not our hearts, but she believes that the heart should lead, with the brain in lock-step behind the heart. Her mission is to raise consciousness, manifest peace and channel grace. A key aspect of her message is to convey how the Divine is available to everyone, not just a select group of mystics.
Some of the classes and workshops that Theresa teaches are: Chaneling Grace; 10 Steps to Inner Peace; The Redemption of the Divine Feminine; and Birthing a New World: Creating a Peaceful Life and a Peaceful World. As well, she trains aspiring Reiki practitioners.
In March, Theresa will be hosting Channeled Grace Healing Circles and Meditations for World Peace twice a month at Charym Yoga in Litchfield.
For more information, or for an appointment, contact Theresa Joseph at: tajo41@me.com.
Visit her website: www.GlobalPeaceMovementNow.com