Twenty-five years ago, singer, composer, pianist, and violist Sharon Ruchman made discoveries about her great uncle Rudy — a virtuoso violinist — that would transform her life.
One day, Sharon Ruchman received a stack of violin sheet music that belonged to her great uncle Rudolph Fuchs, who was a musical prodigy in the 1930s. She grew up hearing about Rudy and his life as a gifted violinist but didn't know too much about him or his untimely and tragic death. In 1933, he was a concertmaster at a radio station in Los Angeles. Just as his career was taking off, he was killed in a plane crash above the Chicago World's Fairgrounds. In the following years, she came across his letters, viola, a recording, recital programs, and photographs. With every new piece of information, she learned that she had a lot in common with Rudy, especially his love of music.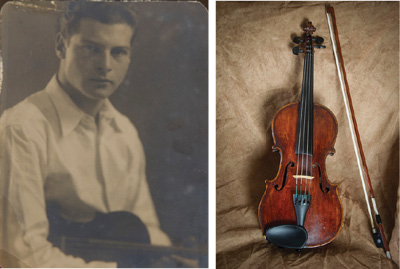 Even though she had never met Rudolph Fuchs, in 2016, Sharon decided to find a writer to document her great uncle's remarkable life. It was suggested to her that she would be the best person to tell the story. And so began the journey that changed her life. Through every discovery about her great uncle's past, Sharon Ruchman found that she came closer to finding her own true identity and musical creativity. The inquiry led to her learning how to write and how to play the viola. "I am now pushing those boundaries without restraint and this unexpected journey is transforming my life."
Originally from Brooklyn, New York, Sharon moved to New Haven to attend the Master's program at the Yale School of Music while her husband began his first year at Yale Medical School. Sharon Ruchman has been living in Litchfield County since 1980. Her husband's work brought them to the area. Sharon had studied vocal work at music school, so when she moved to Washington, she began singing at St. John's, while raising her children. When Sharon was 23 years old, she spent a year in Nepal with her husband working for the World Health Organization. They participated in a program involving tuberculosis vaccination work. It turned out to be an important part of her life journey. "To break from those family ties that were holding me back."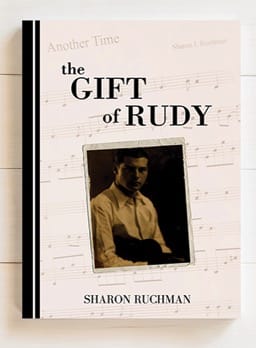 The result of Sharon Ruchman's search for her great uncle's past has resulted in an engaging book called The Gift of Rudy, published in 2018. It has also led to a recording of a musical composition called Another Time which Sharon wrote in honor of her inspirational great uncle. When she acquired Rudy's actual viola, she began taking viola lessons. The influence of Rudolph Fuchs' fascinating story has been profound for Sharon.
Sharon Ruchman wants people to hear her music, she wants to share her story. Even though she learned how to play the piano at 8 years old and continued during her formative years, she wasn't motivated and didn't have the joy of making music as a child. It wasn't fun. Ruchman was classically trained, yet she felt incapacitated as a musician growing up. She never received the support and encouragement she needed to develop confidence in her skills as a musician. Sharon says, "Now I am tapping into what was there—through my composing, through the joy of the viola. I freed myself."
Sharon went to Buenos Aires several years ago with her husband and they fell in love with Tango dancing and the music. She just recently composed two new Slow Tango songs for the Portland Oregon dance company Tango Berretin. The director is Alex Krebs (www.nytimes.com/2016/03/13/travel/portland-oregon-tango.html). They shot a video for Youtube with her songs "Tango in G Minor " and "Swept Away" recorded in December of last year. Jill Pellett Levine of the New Haven Symphony plays Viola and Mary Costanza of Washington Depot (also a teacher at Hotchkiss) plays Cello. Sharon plays the piano. They recorded the two songs at Costanza's studio in Washington Depot.
Other pieces Sharon composed on Youtube with just piano and the same dance company are www.youtube.com/watch?v=8XywTdT2NQQ. "Tango has brought joy to my musical experience," Sharon explains.
Sharon continues to fulfill her musical journey. She is very inspired to keep playing music, composing and recording. She is presently studying viola with Jill Pellett Levine, a violist with the New Haven Symphony. As well, Sharon has teamed up with Susan A. Katz, teacher, author and poet to create music for two children's book series Little Brown Bear and Wanda Wannabee.
Ruchman will be taking part in a Chamber Music program this summer at The Blue Hill Concert Association in Blue Hill, Maine which brings world-class chamber musicians to coastal Maine, presenting concerts and educational programs that entertain, enrich and inspire. She will be participating in learning and with the coaches. Sharon also performs with Mary Costanza at the Gunn Library and at other local events.
The Gift of Rudy is a good read, a mesmerizing story of two musicians with parallel lives, intertwined in family, music, and passion. It will leave you pondering about your past, present, and future.
The Gift of Rudy is available on amazon.com and at The Hickory Stick Bookshop in Washington Depot. An audio version of Another Time can be downloaded at thegiftofrudy.com
Sharon is available for commissions and can create custom music for special events, occasions, and projects. To arrange a consultation or discuss your needs, please send an email with details to sharon@sharonruchman.com
To learn more about Sharon Ruchman, go to:
sharonruchman.com