In the heart of antiques territory, the George Champion Modern Shop is
the place to go to for classic mid-century furniture, objects, and art.
By Jessica Jane Perkel
I enter the George Champion Modern Shop in Woodbury and suddenly feel as if I've broken into someone's home circa 1960. A Rolling Stones LP is playing quietly in the background on a refurbished vintage McIntosh stereo component, and I'm surrounded by an enviable collection of modern furniture, objects and artwork.
To my left, past the George Nakashima sideboard, is a vintage Saarinen tulip table and matching chairs. An iconic Arco lamp arches over a Harvey Probber couch upholstered in creamy-brown velvet, topped with an Alexander Girard cushion. The list goes on. This tiny space is packed with treasures.
George Champion appears. In jeans rolled at the cuffs, a wool cap and Blundstone work boots, he's unexpectedly approachable. We wander among the collection together and it becomes clear that Champion has an encyclopedic knowledge of designer furniture. Every piece is immaculately presented, thoroughly researched and well documented. One gets the sense that inventory moves quickly here. And the striking quality of this space is clearly a product of someone who knows and cares deeply about the beauty of a well-designed object. Had I come a week earlier, I would have seen a full 'studio set' by George Nakashima — including a sideboard, 8 chairs, and dining table — among the most valuable work he's sold lately.
Next door there is more. A year ago Champion expanded into a 4,000 sq. ft., two-story Victorian. Within the domestic spaces of the freshly renovated, elegantly detailed show house, one can wander among two floors of fully furnished rooms, including living, dining, kitchen and bathrooms, all roughly grouped by designer and time period.
JJP: How did you get into this business, George? Do you have a design background?
GC: Well, no. I have a business background. But my Dad was in manufacturing, and he used to take me to work with him. We'd visit factories up and down the Naugatuck valley. He'd sell machinery to these places and he was a stickler for quality. He really knew nothing about the modern design movement, but he had and eye for detail and really cared about well-made things. Like he would never wear poorly made shoes.
JJP : And how did you come to open the Modern Shop?
GC: When I started out, I used to have furniture shows out of my house and barn. I'd put together pieces and invite people to events a few times a year. I opened the store in 2004. It was originally built to house a sporting goods store in 1968, then in 1997 the building was extensively renovated — they added the trusses, the cupola, the double entry doors, the slate floors, the tin ceiling, etc. All I did was put up my sign — and the Edward Tufte sculpture out front (a large cast aluminum fish called Magritte's Smile).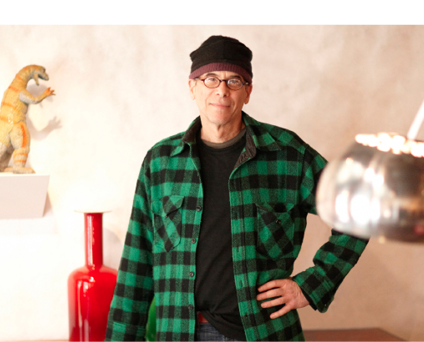 JJP: It's a beautiful little building. And now you have more space next door?
GC: Yes, a few years ago I bought and fully renovated the space to use as a show house. It gives people a different experience. If someone comes who travelled some distance – like if they come up from the city — they used to take 5 or 10 minutes to look around here, and then they'd ask, 'Is there anywhere else that sells modern?' The answer is 'No.' Now I can say, 'There's more next door (a lot more)'. They usually get burned out over there."
JJP: How do you determine what type of work you sell here? Is it all mid-century modern?
GC: No, it's not all mid-century pieces. I collect what I like — as long as it's good design.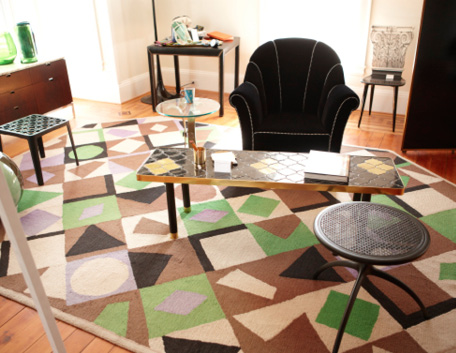 JJP: What's your most recent acquisition?
GC: Most recently, this Arco lamp (designed in 1961 by Achille and Pier Giacomo Castiglioni for Flos) — it's not all that unusual, but this one's the real thing.
JJP: So how do you tell the difference between the real thing and a recent reissue, or a knock off?
GC: This one has the original label, and the sticker (in two places) showing the original importer of the lamp, Atelier International, which has been out of business for years. There are a lot of knock-offs of this lamp around, made in China, for modern housewares stores in the US. But making the retractable steel arm is not that easy. There is a big quality difference between a knock-off and the original.
JJP: In a different category from knock-offs, there are the official reissues of many modern pieces by companies like Knoll and Herman Miller. How does this affect sales of the originals?
GC: Well, I try to stick with original, older material. I just documented that this Eero Saarinen dining set, manufactured by Knoll, is an original. This chair is made differently than the one they sell now. This one looks vintage – it has a lacquer finish on it that yellows with age, giving it a warmer, ivory color. If you buy a new one, it's going to be powder coated in something called Rilsan. It gives it a bright white finish, like a refrigerator. So a new one's going to have a bright, white, plastic-y look to it. And it stays that way. It won't look at all like this vintage one. I don't buy those. I buy these.
I had a new piece once — a little Knoll stool. I wound up selling it at a deep discount. I couldn't stand it any more! Plus, their newly made version of these chairs, which I don't think looks as good, is much more expensive. I'm asking $2,500 for the set of four chairs and a table. It would cost you about $8,000 to duplicate this set new. So shopping here can be cost-effective, too. Just because something is real doesn't mean it's going to be more expensive.
Ask Champion anything about the pieces he has in his collection and there's a good chance you will be treated to an entertaining story. He'll disappear, only to reappear with a book, catalogue, or magazine photo depicting the piece in question, elaborating on its history with a personal story.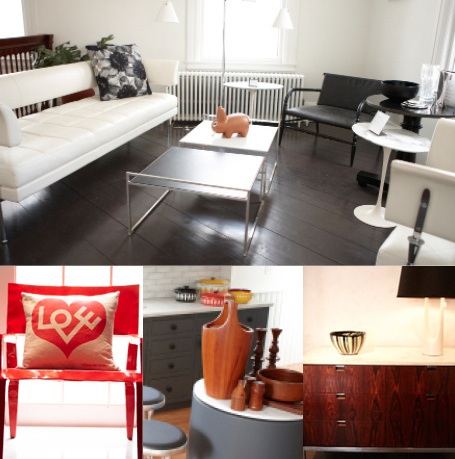 If you are curious, he will explain to you the manufacturing process devised to produce the tongue-in-cheek Mr. Bugatti armchair in the shop window, by the contemporary furniture designer Francois Azambourg. This glossy red armchair—made of crinkled metal—looks like it was mishandled by the movers. In fact, the metal is hand-distressed before it's seamlessly welded together, then painted. Or he'll tell you the story of the piece that was, in fact, mishandled by the movers: a Richard Artschwager sculpture made to look like a table in a moving crate. "It was like 'Who's on First' trying to explain to them that the crate was the not the crate, the crate was the sculpture," he laughs.
Since George Champion Modern Shop stands out among its more distinctly antiquarian neighbors, I ask Champion what it's like to be part of the community. He says he is a member of WADA (the Woodbury Antiques Dealers Association). But, he adds, "Some people come in here and never make it off that mat," pointing to the doormat at the front entrance. "To them I would say, step off the mat! Look around! There's even a Shaker stool in the corner." Definitely visit this modern mecca, but leave yourself some time.
George Champion Modern Shop, 442 Main Street South in Woodbury. 203.263.8442, www.championmodern.com
Jessica Jane Perkel holds a Masters degree in Architecture from Yale University. She works as Director of Exhibits at Cornwall Bridge Gallery in Cornwall. She also writes and makes art (visit her at www.jessjaner.tumblr.com ).