Decorative painter Trish McTague is a master at transforming spaces and surfaces into another dimension, creating magical illusions that please the eye and feed the soul.
Artist Patricia McTague has been painting houses for over 30 years. Combining her education and background in fine art and graphic design with the skills she developed as a house painter, Trish has much to offer her clients—meaningful, one-of-a-kind finishes in their homes. She specializes in faux finishes, trompe l'oeil, painted-in-place murals as well as installed murals, and painted floors and cabinetry. She is a master at wood graining and marbelized finishes, and is an expert at replicating historic wallpapers with paint. In 2000, she launched Tague Designs, an interior and decorative painting company.

Tague Designs offers color consultations and interior design concepts, customized painted furniture, and commissioned fine art pieces. Trish is as comfortable working on period-appropriate projects in historic homes as she is painting a whimsical ceiling mural. Her intention is always to work closely with her clients, managing both their budgets and their expectations for the best possible finished product. She recently completed a mural on the inside of a custom camper van in southern California. You can see that project and many more on her instagram page @taguedesigns.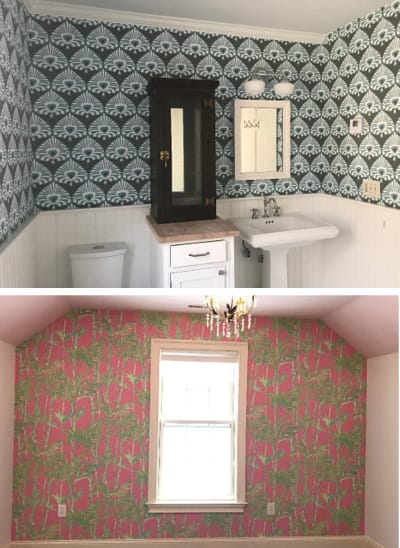 As a young child, Trish McTague was naturally artistic. Both she and her sister loved art. She took art lessons at 10 years old, and during her high school years, she created posters for events and stage set designs. She was selected to participate in the Talented & Gifted Program for Art. Later, she graduated from Northwestern Community College with degrees in graphic design and fine arts. In her twenties, she assisted the painter Herman Margulies, then moved to Washington D.C. where she worked at a design firm doing color analysis for print, and had the opportunity to work on various clients' projects, including Tommy Hilfiger.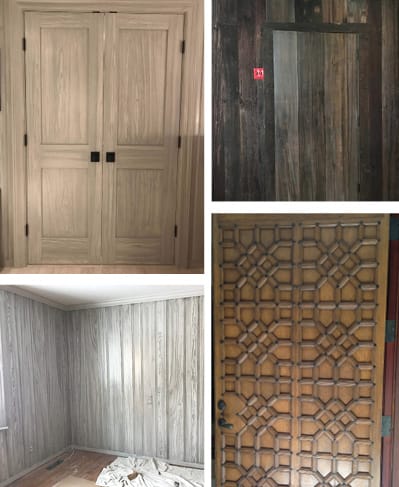 Trish enjoys doing volunteer work for the community. "I love community. I think it is very important. Art is a great way to bring a community together." She volunteers for the Town of Litchfield and the Litchfield Community Center.She also does volunteer work for the Abbey of Regina Laudis, where she works on stage sets and does general painting. She enjoys working with Mother Anastasia and the nuns from the Abbey.
While still in college, Trish worked as a server at the GW Tavern where she met the two artists who created the murals in the restaurant. She joined Nora Johnson and Moira Kelly on many decorative painting projects and learned a variety of methods such as striée, faux plaster, wood grain, as well as other methods and styles. A friend living in Mexico (originally from Connecticut), artist Darryl Eddy taught her about murals.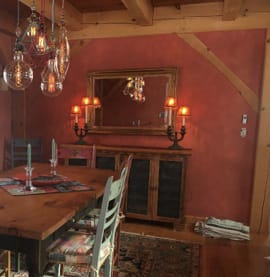 "What I love so much about painting is that it is magical in its ability to transform any space." With her talent, passion, and vision Trish McTague has the power to turn plain spaces into another dimension, whether they are graphic borders or a dreamlike scene.
We spoke with Trish about her process and asked her for tips to help us make the right paint decisions. Here is what she had to say:
When customers commission you to paint their house, do they show you examples of what they are looking for? Or do you offer suggestions to them? Or is it a bit if both? How does it work?
Sometimes my clients know exactly what they want, whether they were inspired from a trip to Europe or a picture in a magazine. Sometimes they need a lot of guidance. Before I meet with them, I ask them to find sources that inspire them. My philosophy is that it is my job to articulate my clients' inspiration and to help guide them to create their dream. It's a process and an evolution of ideas. It is important to really get to know them. I will meet them in their home to see what they are inherently all about. I take the inspiration, make samples and or drawings for approval. It is imperative to only meet during daylight hours to discuss color concepts and to discuss the process of completion.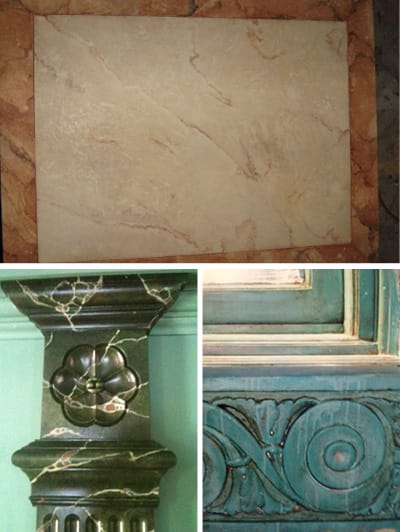 Do you spend time researching a style before you begin a project? Can you give us an example?
Yes, most projects require some amount of research. I once did a mural in a dining room on Lake Waramaug that depicted the lake before 1900. We did extensive research with historic pictures of architecture past and present. It was interesting to learn the rich history—and mostly forgotten history—about Lake Waramaug.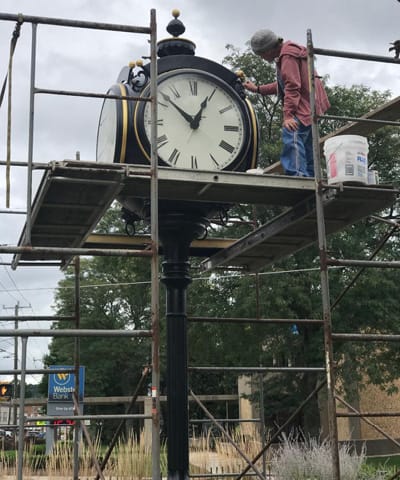 Are most of your current projects and clients in Litchfield county or do you still work in NYC?
I used to work in New York, but for the last 18 years, I have tended to work mostly in Litchfield and Fairfield counties so I could raise my son. Now that he is grown, I have been more open to traveling to new areas. I love to travel. Most recently I had the opportunity to design a Sprinter van in Topanga, California for a client looking to create a space unique to her imagination. That was a wonderful experience.

What tips do you have for people who are afraid of using color in their homes?
I personally tend to be neutral with color but I love to pop with colorful accessories. It allows for the opportunity to change up a room over time without much effort. However, I love to work with clients who love color on their walls. It's a personality type. Painting is so overwhelming to most people that they cannot commit to color or they worry what other people will think. I try to remind the client that it is their home and unique to them, to do what they really want and go for it! I can be brutally honest at times about colors and ideas, and people usually appreciate my honesty and experience. Most importantly, I try very hard to guide and inspire them to do what genuinely defines their individuality.
When is it appropriate to use a glaze on walls?
When it comes to glazing walls, it is easier to say when it's not appropriate. I mean, you can glaze any wall. Glazes can create atmosphere, depth, warmth, and hide a multitude of imperfections in walls. However, I would never recommend it in high traffic areas. Glazes are difficult to repair. For instance, it would not be advisable to apply a glaze to a stairway in a home with lots of children, kitchens, or work areas in restaurants.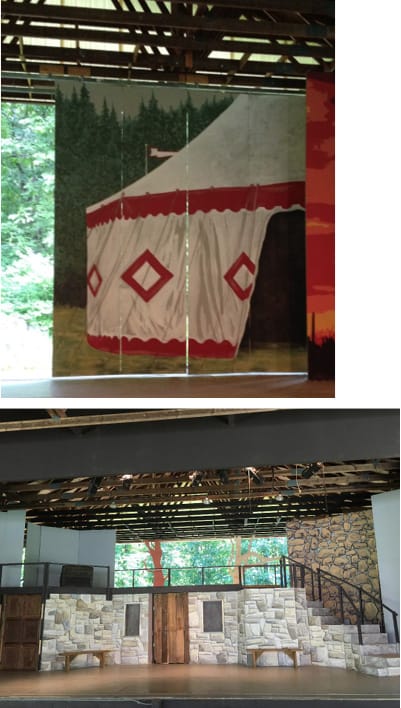 Do you have favorite paint colors and/or brands?
Paint colors are unique to each client and the space in question. All paint companies have great color selections. Benjamin Moore has an extensive collection. Farrow & Ball has a limited but popular color selection but it is very expensive. Most paint stores, however, have the formulas to make other brands' color selections. I tend to use Benjamin Moore products because they are always consistent and I am familiar with the products. Personally, I lean towards whites and neutrals for paint and then accessorize with pop colors. This way you can change up the theme for different seasons or just for a new look without much difficulty.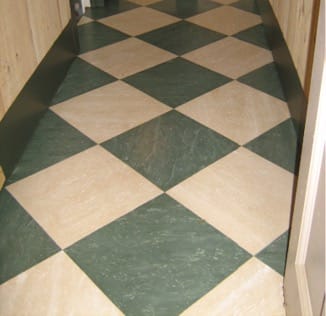 What is your favorite kind of project to work on—murals, faux finishes, graphic patterns?
I enjoy almost all genres stylistically and always appreciate diversity in my work. What I like most about my profession is that every project is unique. Whether it is murals, glazing walls or designing graphic stencil designs. Every project demands its own combination of integrity and imagination to fit the client and their individuality. My business includes all aspects of painting from straight painting a small bathroom, to brand new construction, to large scale trompe l'oeil murals. People often assume I won't or don't do straight basic painting but is a large portion of my work. No job is too small or too big. Funnily enough, one of my favorite painting jobs is just straight painting old, outdated, dark wooden kitchen cabinets. It's so easy and the instant gratification is priceless.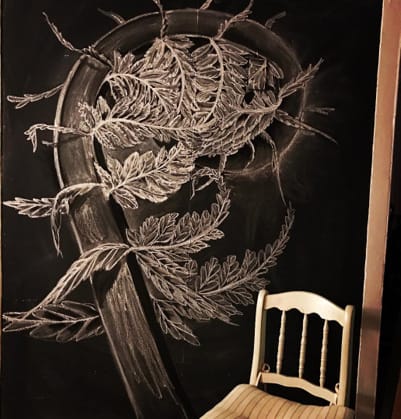 You have worked in restaurants, shops, and residences – is there another type of location you would like to add to your list? A corporate office, a school, a boat, a library, a public space?
I have painted in corporate offices (PorPark, HQ Hartford), in schools (Forbes Elementary School and Library) and I have painted sets for stage designs at The Warner Theater. I have always been inspired by and would love the opportunity to paint large outdoor murals. I have a great idea for Torrington that involves bringing some historic murals unique to the city and painting them in large scale on buildings.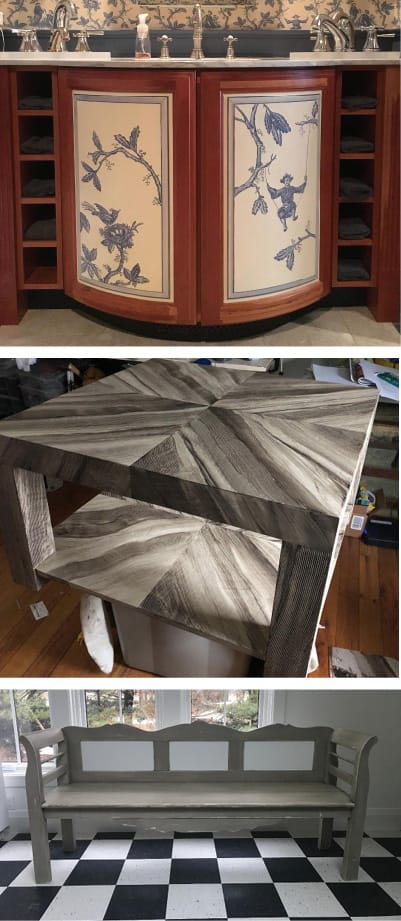 Is there something you would like to try that you haven't attempted yet? A method or a style, or a project?
Yes, two things: 1) Gilding/gold leafing. 2) I would love to travel around the world painting murals in hotels, restaurants, sides of buildings and impoverished towns to help create a sense of well being. I love to volunteer my artistic talents to make the world a better place.