On view at the Washington Art Association & Gallery is an exhibit of works by Ruth Miller and Andrew Forge, two artists and partners who pursued equivalent philosophies.
The paintings and drawings by Andrew Forge and Ruth Miller that currently hang together at the Washington Art Association & Gallery give us a glimpse of their creative, twenty-eight year marriage. At first glance, Forge's abstractions seem quite apart from Miller's observational still lifes and landscapes. His personal idiom of myriad dots suggests an inner monologue, while Miller seems intent on deciphering the tangible world. His persistent daubs counter her lush brush. But as one lingers in the exhibition, Forge and Miller reveal their mutual objective: to confront the ambiguities of life.
Forge (1923-2002) was a lauded painter, teacher and writer. Among many accolades are his Guggenheim Fellowship, the Painting Prize from the American Academy of Arts and Institute of Letters, and the College Art Association Distinguished Teaching of Art Award. He was Dean of the Yale School of Art from 1975 to 1983 and Professor of Painting from 1975 to 1994. Forge's illustrious career did not distract him from his commitment to using paint to reveal the profundity of seeing.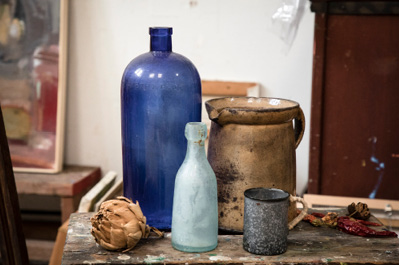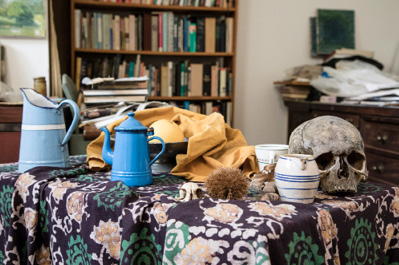 Immediately after Miller (b. 1930) received her MFA from the University of Missouri in 1953, she moved to New York City. There she shared an apartment with fellow artist Pat Passlof, and quickly bonded with many of the artists who now personify the exciting art world of mid-century New York, including Grace Hartigan, Alfred Leslie, Al Held and Esteban Vicente. Miller was involved with the New York Studio School from the year it opened in 1964, and she has taught there since 1972. Her keen renderings of commonplace objects are an ongoing elegy to perception.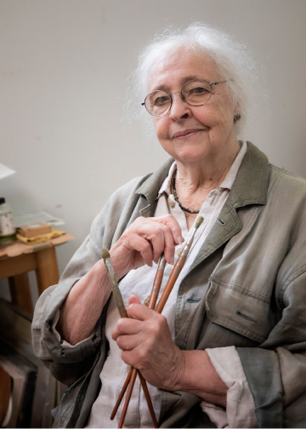 Forge and Miller married in 1974. Each had been married before, and between them they brought five children to their new life in Connecticut. The current exhibition makes it clear that they pursued equivalent philosophies. Forge honed a metaphysical perspective while Miller maintains a more phenomenological stance. His paintings are meditations on the ineffable. Her paintings are nuanced offerings of her memories and awareness of the real world.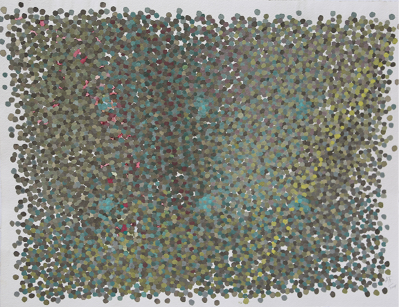 Untitled, a watercolor on paper gives a good indication of Forge's process. Starting with one mark on the page, he responds with another, building a physical presence that is both literal and dimensional. His muted palette makes the dots interdependent, like a swarm of bees that move together even as each is self determined.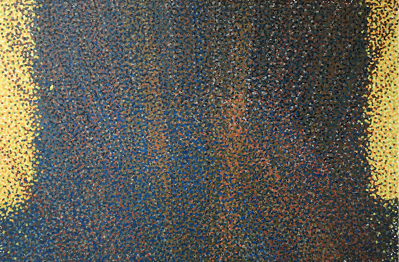 Heavy Hemlocks II is an apotheosis of Forge's dots. They rise en masse in a dense, turbulent swathe, with rich yellows forming glowing margins on either side of the canvas. Responding to a particular light, or a moment in time, Forge gives us a universe that is both an elegant surface and a complex symbolism. This duality of the physical and the metaphysical is fundamental to the Forge aesthetic.
Miller's work is equally profound, but her approach is via representation. She still paints every day from about 9 am to 2 pm. Though she has often painted en plein air, these days she often sets up an arrangement of vegetables, ceramics, and objects from her studio as points of departure.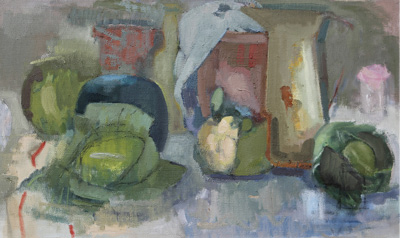 Malthouse Still Life, an oil painting she completed last year, no doubt arose from such a tableau. Here the objects share the space, and are bound together by an enveloping atmosphere that is an equally tangible presence. For Miller, the interstices between the shapes are meaningful. As she paints, edges melt into space and materiality merges with the void. This alchemical process conveys an elastic sense of time, reminding her of earlier work, or memories of other painting challenges, taking her to a timeless place, where the past resides with the present.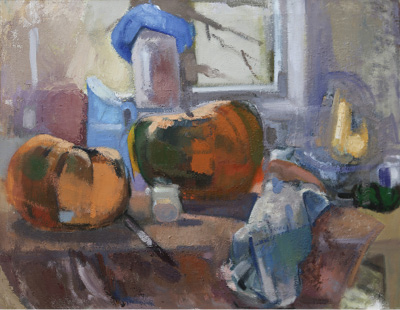 Pumpkin Still Life in Window, also 2016, is less atmospheric and emphasizes the Cézanne-like relationship between the pumpkins, cloth, and vase and the tabletop and window. Miller structures the painting as three parallel planes – the foreground formed by the draped tablecloth, the mid-ground where the ostensible subjects appear, and the more distant area behind the table. But light is the dominant element, streaming from the window and flowing in and around everything. Miller's brush seems to revel in the light. Her gestures are confident, if not joyful.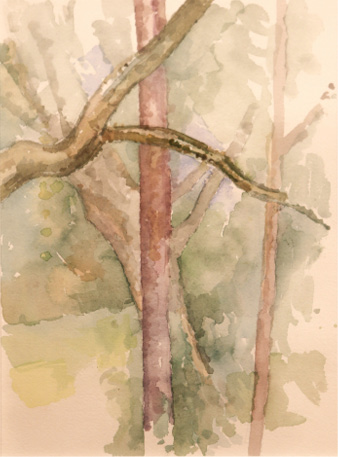 The exhibition also includes a wealth of works on paper by both artists. Along with the aforementioned untitled watercolor, Forge is represented by a seemingly atypical drawing titled Tree Bend. The pale colors and soft application seem rather conventional, but his trademark short strokes remind us that his real interest is in the air, not the tree.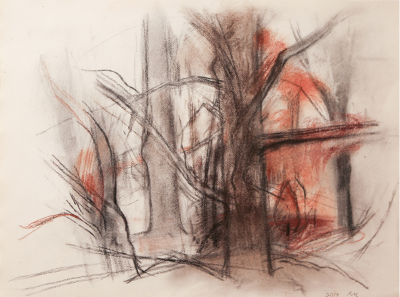 Miller addresses the same tree in the pastel, Looking Toward Shinar Road. Her statement is a more emphatic statement than the Forge, emphasizing the large dark tree. She is equally concerned with the receding depth, and the distant house suggested by her penciled lines.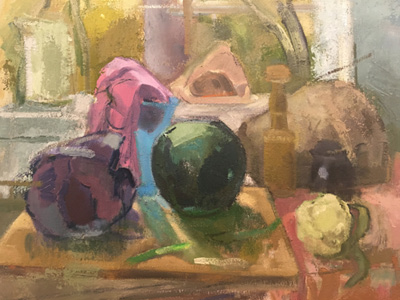 Miller seems to relish the artist's role as seeker. She generously refers to numerous influences, including Morandi, Chardin, Matisse, and Guston, as well as Cézanne. Miller shares with these masters, and with her late husband, a deep knowledge of the mystery of the natural world.
The Andrew Forge Estate is represented by Betty Cunningham Gallery, New York City.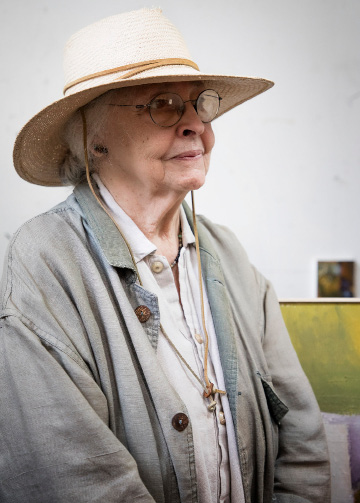 Ruth Miller and Andrew Forge will remain on view through August 5.
Washington Art Association & Gallery
4 Bryan Memorial Plaza
Washington Depot
860-868-2878
www.washingtonartassociation.org