On view at the James Barron Art Gallery in Kent are works from Norris Embry's notebooks. This collection of the artist's authentic, unmediated images is worth a visit.
Norris Embry: Big Explosion and other works is a large array of Norris Embry's paintings and drawings featured at James Barron Art Gallery in Kent, with works from a few other artists. Taken from the notebooks that the artist filled with his fleeting thoughts, observations and memories, the works are varied and fearless. They can be appreciated as a collection of moments from Embry's stream of consciousness, or as singular images from a life that was both passionate and troubled.
Born in Louisville, Kentucky, Embry (1921 -1981) matriculated at several art schools, including the Art Institute of Chicago, St. John's College in Annapolis, and the Academy of Fine Art in Florence Italy. In Florence he studied for several weeks with the Austrian modernist, Oskar Kokoschka, an influence that is quite evident. Embry exhibited widely throughout his life, and he received one-man exhibitions at various American museums, including the Guggenheim Museum, and the Institute of Contemporary Art in Boston, and museums in Europe, and Japan.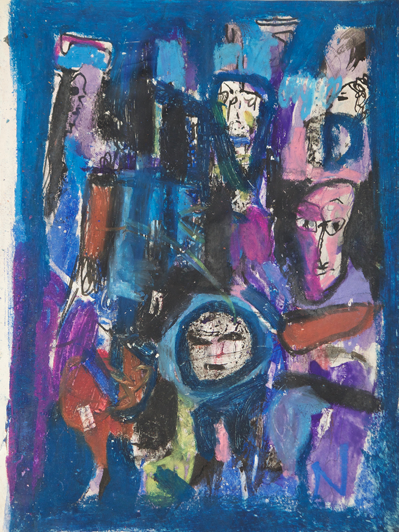 Though Embry seems to have spent much of his time in solitude, he traveled widely throughout the U.S. and Europe. When visiting San Francisco during the 1950s, Embry became friends with the reclusive collagist, Jess and the poet Robert Duncan. Collage elements are added to many of Embry's paintings, and he often uses words to punctuate complex compositions. Embry was also exposed to early exhibitions of work by Bay Area artists such as David Park and Richard Diebenkorn, whose merging of expressionism and figuration is considered the antidote to the muscular abstraction of the New York School. Fully aware of the contemporaneous art world, one can see the influence of European expressionists such as Dubuffet, Klee, Miro, Nolde, and Kirchner on Embry's feverish and ever-changing oeuvre.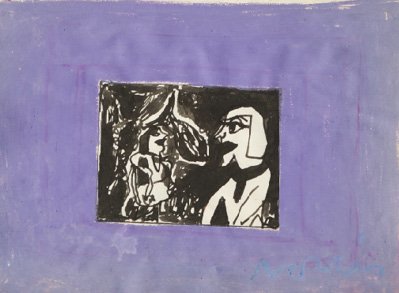 Embry easily navigates a wide range of styles and moods. From a charming, calm seascape, to a cluster of angst-ridden characters competing for room on the page, to semi-abstract notations on personal experiences, Embry seems more of a proto-postmodernist who switches his aesthetics to suit his emotional needs than a modernist who delves ever deeper into one visual trop. Embry's palette is equally varied, ranging from primary colors articulating complex compositions to watery pastels to effect moody statements. As a group, his paintings and drawings convey an active, peripatetic mind of an artist who had no choice but to express himself.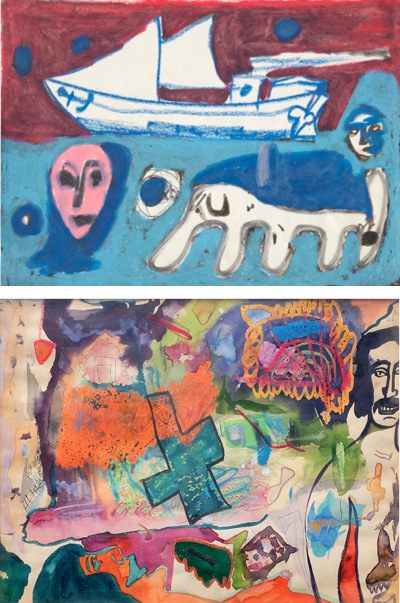 Embry was diagnosed, or perhaps mis-diagnosed with schizophrenia when he was a young adult. But his ability to produce such a large body of work, to manage meager funds in order to travel extensively, and his determined self-reflection, countered by episodes of hospitalization suggest that he may have suffered from bi-polar disorder. One can sense Embry's anxiety in both the diversity of visual vocabulary and his itinerant searching for a place to be at peace. He made extended sojourns to Greece, and traveled sporadically to Sweden, Germany, Spain and England, spending his final years in Baltimore, where he was treated at a sanitarium but continued to paint. He died after a series of strokes. The Baltimore Museum of Art claimed the artist in 1996 with a comprehensive exhibition.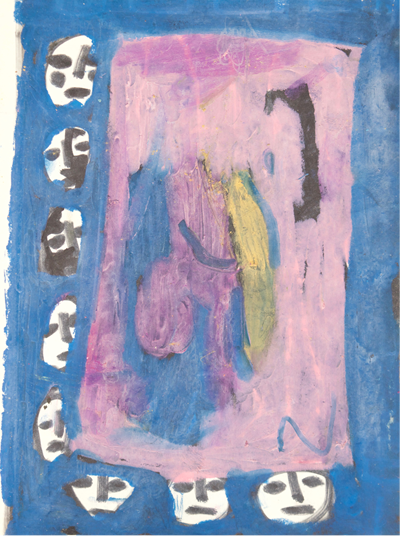 In every culture, artists carry such mantles as "talented", "gifted", "visionary", or "genius". These labels can elevate or isolate, but they always convey a sense that the artist is a special person, a shaman or a visionary, and thus they become "the other". Many people think that artists live exotic lives, that they receive divine inspiration, and are unfettered by convention. In extremis, this romantic notion often links creativity with madness. But any self-aware person experiences some degree of doubt or anxiety. The distinctions between the rational and the irrational are mercurial and often hard to discern, so it is not difficult to understand how a sensitive person might fall into a mania or obsession. Knowing that Embry suffered from a mental illness, we are inclined to label his passionate paintings as "outsider" art. But the distinction between "insider" and "outsider" is increasingly dubious. We respond to the immediacy of Embry's visual language because we sense we are looking at authentic, unmediated images. Embry's art does not censor or calculate, but presents itself honestly, with all the foibles and errata of a life fully lived.

The exhibition also features works by Richard Anuszkiewicz , Beverly Pepper, Norris Embry, Tristano Di Robilant, Joan Mitchell and Jeannette Montgomery Barron. The show will run through March 31, 2017.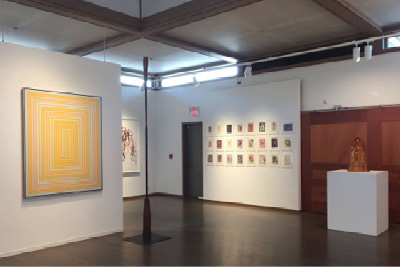 About James Barron Art: James Barron is a private art dealer specializing in modern and contemporary American and European art. He has been a weekender in Kent, Connecticut for more than 20 years and now divides his time between Rome, Italy and Kent. Trained as an art historian at Brown University, Barron is known for his refined vision and ability to juxtapose works in unexpected combinations. He worked at Knoedler Gallery with post-War and Contemporary American art and at Jan Krugier Gallery in Geneva, with the Marina Picasso Collection and Modern masterworks. He has sold Modern works by Picasso, Matisse, Giacometti and Pollock, as well as Contemporary art by Warhol, Diebenkorn, LeWitt, Mangold and Olitski. Barron is equally adept in guiding both new and experienced collectors. He shows at Art Basel in Miami and the Armory Show in New York City.