Craven Contemporary is a powerhouse of a gallery owned and directed by Andrew Craven who is committed to edgy and confrontational work by well-established artists.
Strolling down Main Street in Lakeville, passing the ubiquitous antique store, the local pizzeria, a realty, one might almost miss the small art gallery on the ground floor of a clapboard house. Craven Contemporary assumes an understated presence, but as soon as the gallery's threshold is crossed, it is clear that something unusual is going on here.
Established mere months ago, Craven Contemporary is a 200 square foot powerhouse of a gallery. Owner and director, Andrew Craven's inaugural exhibition, 5 Americans, makes it clear that he is committed to edgy and confrontational work by well-established artists. Photography-based, this small exhibition is a mini-survey of contemporary art.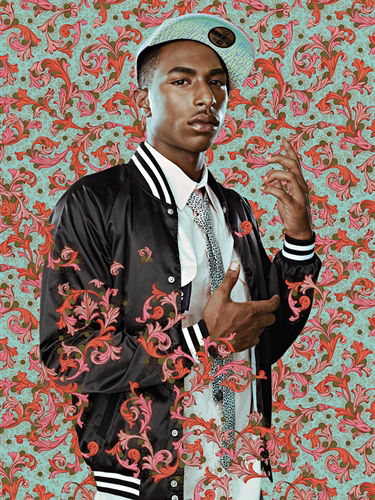 Perhaps the most familiar of the five artists is Kehinde Wiley, now well-known for his official portrait of Barack Obama. After Joshua Reynolds Portrait of Dr. Samuel Johnson presents the subject, a young man named Sherrod Hosten, in the pose of Dr. Johnson, who, in Reynold's portrait, gesticulates in an apt discussion. By placing Hosten in the posture of the 18th-century master, Wiley ennobles Hosten's identity. The pink flowers swirling off the wall and surrounding the figure counteract the familiar urban uniform of baseball jacket and cap, rendering the subject vulnerable. His direct gaze challenges us to see him clearly as a complicated modern man.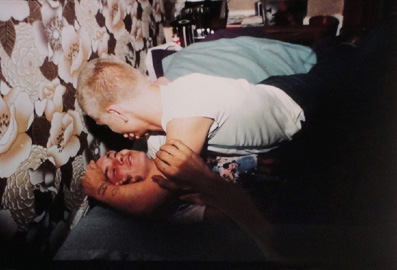 Nan Goldin is a photographer who has documented the LGBTQ, AIDS, and drug communities since the 1980s. Known for living her life within these subcultures, her photographs capture raw, uncensored moments. Skinheads – Warren and Jerry – fighting, London is the image of two men fighting, (or are they embracing)? The flash of the camera shines on the couple while lending a voyeuristic quality. The flowered wallpaper lends an ironically domestic note to the macho struggle.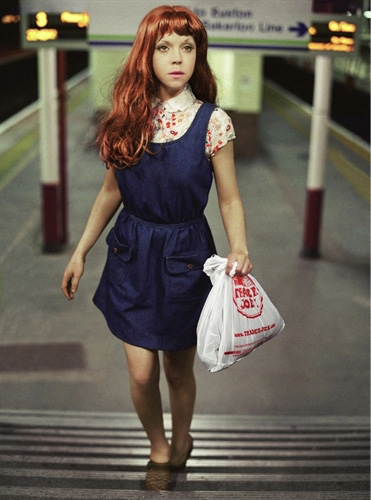 Kate by Alex Prager is a C-print from her Big Valley series. The artist, who lives in Los Angeles, is known for her photographs that look like stills from movies. The female figure walking up a flight of stairs is clearly wearing a wig and seems to be in costume. The stop- action quality is detached from any narrative, and the flooded lighting lends to a heightened sense of drama. Like many residents of Los Angeles, Prager is highly aware of the film industry that permeates everyday life there.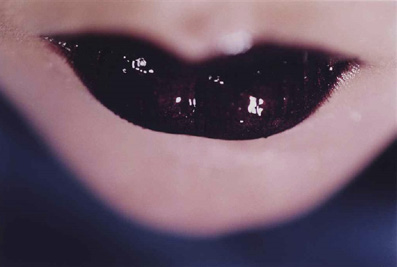 The large-scale, lacquered lips of Marilyn Minter's Black Cherry are both seductive and menacing. Reflective and impenetrable, they seem to lure the viewer, but they are also forbidding. Are they the lips of a woman, a doll, a man, or an indeterminate gender? These lips represent desire itself, and perhaps the void that lies beyond the dream fulfilled.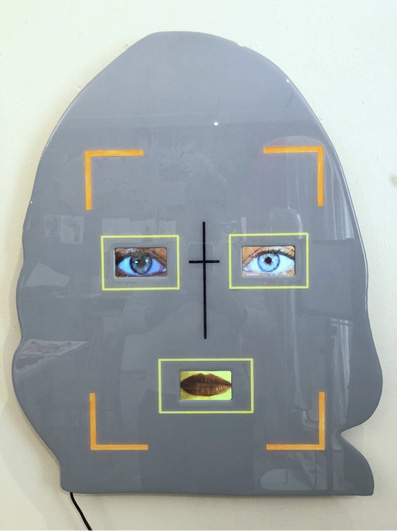 One of the artists among the Five Americans departs from traditional photographic methods. Tony Oursler uses an array of media to convey social and psychological meanings. L%3M is made of aluminum, steel, acrylic, LED screens and a media player. The "face" that results suggests that technology is transforming the human condition. Eyes that don't match and a mouth that seems unrelated to those eyes are aligned by the formatted corners and screens that select the facial features. Oursler offers a vision of the future, or perhaps a dire assessment of the present.
Five Americans is a refreshing departure from the safer offerings of many Litchfield County art galleries. A glimpse of the cutting edge is important for the health and evolution of Connecticut's art world.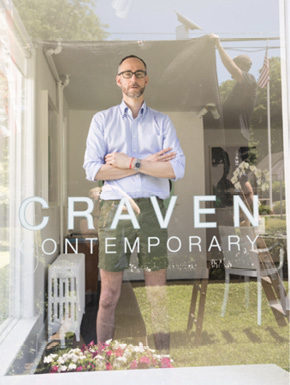 Andrew Craven's arrival in the art world is somewhat unorthodox. Born in Great Britain, he moved to the U.S. in 2000. As a finance officer at KMPG in Manhattan, his hours were regular, and there were many galleries near his office. So he began to frequent them on his lunch breaks and after work, soon developing a particular interest in photography. A resident of Sharon, Craven commutes to New York City. His gallery in Lakeville is open on the weekends and by appointment. As the third art gallery in Lakeville, along with Argazzi and the White Gallery, Craven Contemporary is helping to make the town an art destination. Craven's next exhibition is LIZ, five artists exploring the meaning of iconic images of Liz Taylor.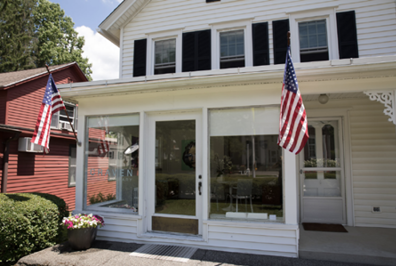 Hours: Saturday 10:30 to 5:00, Sunday 11:00 – 4:00
Craven Contemporary
340 Main Street
Lakeville
860.596.4371