David Dunlop seeks to stretch time, so that it is elastic enough to convey the process of seeing. His work can be viewed at The White Gallery in a new exhibition called The Electric City.
When speaking with David Dunlop, it is immediately clear that he is as much a teacher as he is an artist. Loquacious and well read, Dunlop weaves a rich array of literary, philosophical and art historical references into animated conversation that eventually leads to a discussion of his paintings. While a focus on theory might seem to be a distraction from the artmaking practice, in Dunlop's case, there is a clear connection between his scholarship and his art.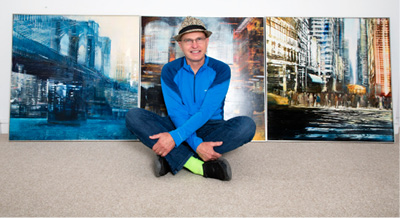 Dunlop uses paint to articulate certain principles of perception. Specifically, Dunlop in interested in the eye's neural scan paths: the mind's constant assessing of visual data to locate the edges of objects in order to comprehend the narrative of our lives. Myriad bits of information flicker across our eyes in millisecond increments. Dunlop wants to know how our attention is arrested from the constant barrage of visual sensation to create form and meaning.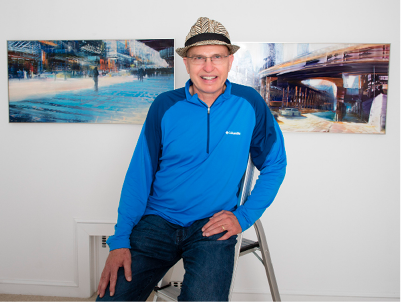 Dunlop refers to "the myth of the focal point". He posits that the Renaissance emphasis on one-point perspective has had an inordinate hold on art, constraining centuries of artists to adhere to the rules of receding space. Dunlop proposes that two focal points more accurately convey the true nature of human sight, one linear and the other atmospheric. He contends that many artists, and viewers alike, would benefit from understanding that seeing is the meeting of sensory data and the mind's process of interpreting that data. To effect these sensations, Dunlop uses oil painting on aluminum, a process that allows for a more immediate application of the pigment, allowing him to work quickly on the smooth reflective surface, as opposed to the absorbing texture of canvas.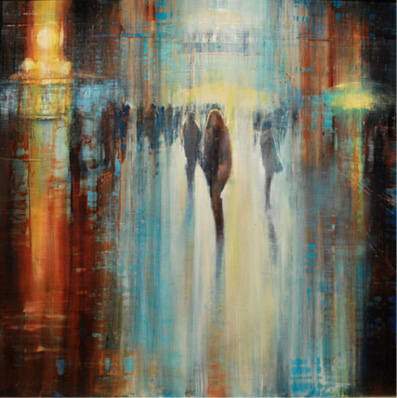 In defiance of traditional perspective, with it's prescribed organization of space from near to far, and the formulaic use lights and darks to effect an ideal scene, Dunlop strives to paint the evanescence of seeing, a record of the perceiving eye. Grand Central Terminal, Passing Through, conveys the sense of the perpetual intake and assessment of retinal information that is central to Dunlop's aesthetic. Rather than a static image of figures that imply movement, Dunlop renders the light and space of the basilica-like room, with the suggestion of travelers emerging from the atmosphere. The scene captures the sensations the eye compiles to create a legible scene. Another of Dunlop's series of the voluminous station, Grand Central Terminal, Reverberating Light shows the throng as a dark mass that anchors the painting. The familiar cathedral windows that face 42nd Street preside over the scene, just as they do when one walks toward them from a dark train platform. Light is the protagonist here, shimmering and alluding to the anonymous travelers in motion.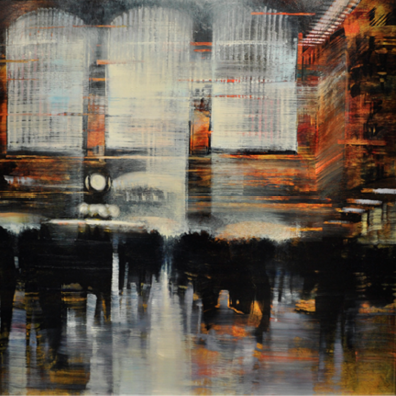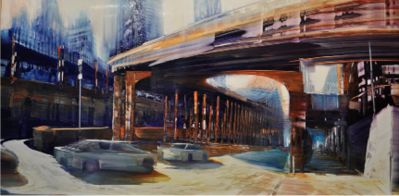 Dunlop has also made a study of bridges and freeway overpasses. Approach to the 59th Street Bridge captures a mundane location, a fleeting scene that any urbanite has seen many times. Like Wayne Thiebaud's freeways, Dunlop's bridges arc across his paintings as compositional anchors. Traffic is suggested, on the overpass above, and cars move furtively below. Dunlop gives us enough information to read the painting, but there is actually little detail offered. Another bridge painting, Brooklyn Bridge follows in the grand tradition of artists like Joseph Stella who have immortalized the structure as an iconic and eternal. Dunlop's version is painted looking up from the river, beneath the massive form. The scene is reminiscent of a Piranesi drawing, with its simultaneous, extreme vantage points of architectural volumes. We see no vehicles, rather a visual vibrato referring to the coiled suspension cords suggesting the energy from streams of cars zooming above.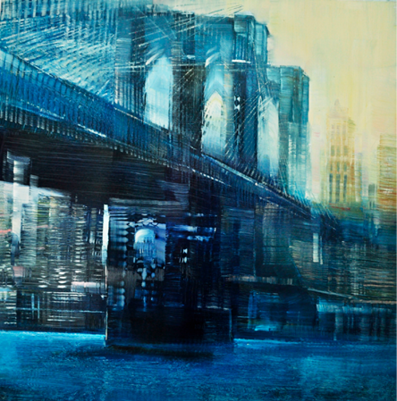 Some viewers may mistake Dunlop's paintings as a form of Neo-Impressionism. Actually, they are the antithesis of the Impressionists' goal of capturing a moment, using treating paint as a system of equally weighted marks that unify as one light-filled space. Instead, Dunlop seeks to stretch time, so that it is elastic enough to convey the process of seeing. His "peripheral smears" convey the viewer's kinetic experience as one walks through the world, constantly and unconsciously editing the vast, perpetual array of retinal signals. A careful study of Dunlop's paintings offers both a satisfying encounter with an accomplished artist, and a lesson in neuroscience.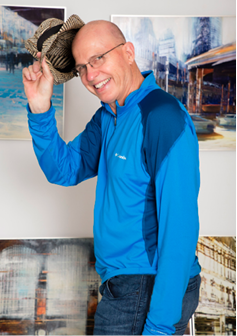 Dunlop was born and raised in Missouri. He received a BA from Wooster College in Ohio. During the 1970s, he worked at the illustrious Blackburn Press, where he assisted modern masters, and master printers. After receiving his MFA degree at the Pratt Institute, he moved to Connecticut in 1979. Dunlop is a member of the faculty at the Silvermine School of Art in New Canaan, where he teaches painting and conducts art-related tours of Italy, France
and Japan. In 2008, PBS debuted Through Time with David Dunlop, a thirteen-episode series Dunlop hosted and wrote. In 2009, the series was awarded a Daytime Emmy for outstanding writing and a CINE Golden Eagle Award for excellence in television production.
Currently, The White Gallery in Lakeville is presenting the exhibition David Dunlop: The Electric City. The show will remain on view through November 5.