Eric Aho returns to the Washington Art Association as the sole juror for a new exhibition called The Thing of it is… featuring local artists as well as from across the U.S. 
Eric Aho is a landscape painter who doesn't paint landscapes. He is a such a keen observer that mere representation can't convey the restless energy, the heightened consciousness and the subtle uncertainties we sense when immersed in nature. Aho's paintings remind us that human experience is transitory, an amalgam of fleeting sensations that are both within the world and evanescent.
While traditional landscape surveys the world from an objective distance, placing the viewer in an omniscient position, an Aho painting puts us inside nature, where light and form are always changing. Unlike Canaletto, who surveyed the Grand Canal with a confident remove, or Thomas Cole's calm, bucolic views, or Barnett Newman, who reduced the horizon to one "zip" of a line, Aho paints in a not quite abstract style that conveys both the particular and the revelatory. With each canvas, we witness the artist's process, his intimate knowledge of pigments, his awareness of art history, and his memories, all woven into the complex texture. We feel his immersion in the forest, his ability to capture the ever changing colors, the sounds, and movement of the living environment.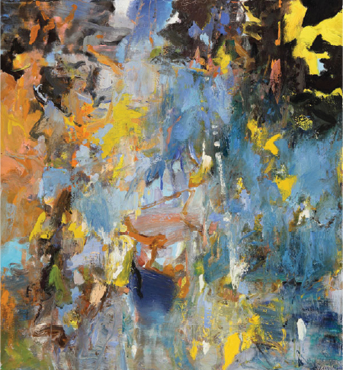 In a painting such as French Forest, oil on linen, 52 x 48 inches, 2012, from his Translation series, Aho's surface is dynamic and athletic, a luxurious indulgence in paint. But just beyond this tantalizing activity, the dark recesses counterbalance his light-filled strokes, suggesting a vague threat of the unknown. Aho adroitly straddles these two levels of meaning and the result is an exuberant embrace of life.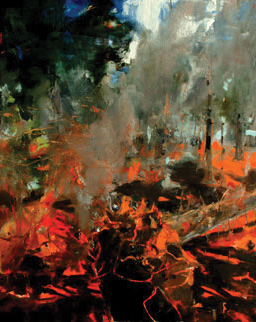 Sky Vent, oil on linen, 50 x 40 inches, 2009, from the Red Winter series was inspired by Aho's view of the seasonal burning of fields near his Vermont studio. But he does not paint the reds and oranges as an ominous presence. Rather, the flames rise in an apotheosis of color that reaches toward a corner of blue sky.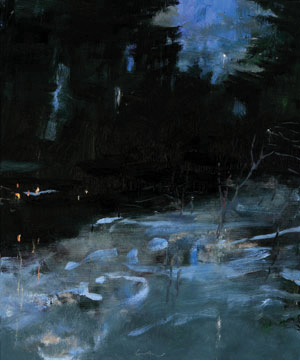 A relatively monochrome work, like Nocturne, oil on linen, 36 x 30 inches, 2011, from his Covert series, gives us a moment of moonlight streaming onto the forest floor. Blues and blacks converge on what might seem an uneasy moment in the dead of night. But the break in the trees also reveals the lunar light as beckoning toward a new day. This tendency towards optimism is evident throughout Aho's work. Relinquishing himself to the forces of the forest, giving witness to the stuff of nature, he emerges resilient and hopeful.
Aho is an established artist whose work is included in the permanent collections of major university and civic art museums throughout the world. He is represented by D.C. Moore Gallery in New York City. Aho received his BFA at Massachusetts College of Art. He has a diploma for Advanced Studies in Printmaking from the Central School of Art and Design in London, and he took graduate study at Instituto Superior de Arte in Havana. In addition, he holds a postgraduate certificate from the Institute of Art and Design in Lahti, Finland. Currently, the exhibition "Eric Aho: An Unfinished Point in a Vast Surrounding" is on view at the New Britain Museum of American Art. In September, the Burchfield Penny Art Center, SUNY Buffalo will host his exhibition, and in October his new work can be seen at DC Moore Gallery, New York City.
Aho has a longstanding relationship with the Washington Art Association that began when he participated in the Young Talent show in 1993. Now he returns to Washington as the sole juror for "The Thing of it is…", an exhibition that will open on July 23 and continue until August 20. Aho selected work submitted by artists from throughout the U.S., including following artists from the Litchfield Hills area: Lisa Brody and Greg St John from Kent, Alicia Mordenti, Vincent Giarrano and Zemma Mastin White from Washington, Jeanne Steers and Wendy Walker from Roxbury, and Ann Quakenbos from New Preston. The opening event will be on July 23.
To see more of Eric Aho's work, go to his website: ericaho.com
The exhibition Eric Aho: An Unfinished Point in a Vast Surrounding is currently on view in the Bachelor Gallery at the New Britain Museum of American Art until August 14, 2016.
New Britain Museum of American Art
56 Lexington Street
New Britain, CT 06052
860.229.0257
nbmaa.org
The exhibition The Thing of it is… juried by Eric Aho will be on view from July 23 – August 20, 2016. The opening reception is Saturday, July 23, 4 – 6 pm.
Washington Art Association (WAA)
4 Bryan Hall Plaza
Washington Depot
860.868.2878
washingtonartassociation.org
Artist Talk and Demonstration
Eric Aho will present a lecture and demonstration on Friday, July 22, 4 – 5:30 pm at the Washington Art Association. He will share some thoughts on painting and show some new works fresh from the studio that explore the landscape as a platform for abstraction. Afterwards, he will demonstrate his unique painting technique and answer questions. A contribution of $20 is suggested. Reservations are encouraged.