For over forty years, Cornwall artist Tim Prentice has been creating beautiful kinetic sculptures — highly articulated and carefully engineered wind-activated forms.
Tim Prentice's studio is a serious place, but an undercurrent of levity prevails. The playful atmosphere emanates from the artist himself, a man with a generous spirit and a wry sense of humor.  With more than forty years of work on the walls, hanging from the ceilings, and gyrating outdoors, Prentice clearly delights in noticing unexpected movements, glints of light, and chromatic subtleties that activate the lively array. Like the artist, each of his kinetic sculptures are both pragmatic and whimsical.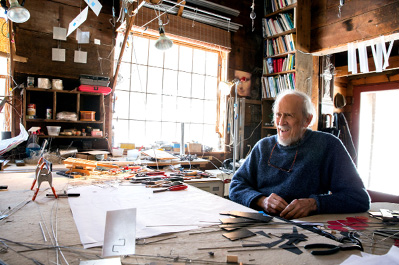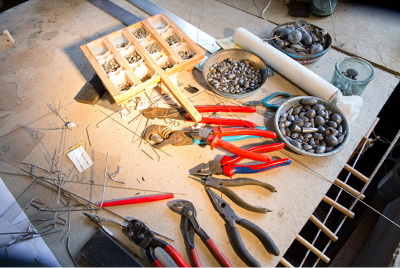 Prentice considers himself a Constructivist, and like those Russian early modernists, he often limits his palette to red, black and the neutrals of aluminum and wire. Prentice has been inspired by Alexander Calder since a chance encounter with a stabile at the Addison Gallery in Andover, Massachusetts when he was a teenager. Almost all of his works move, as hand-operated wall pieces, or as fanciful, wind-activated forms. They are highly articulated and carefully engineered instruments of workmanship and wonder. Using industrial and found materials, they retain a handmade quality even though Prentice routinely achieves an exact measure of balance, tension, and aesthetics after many years of technical experiments.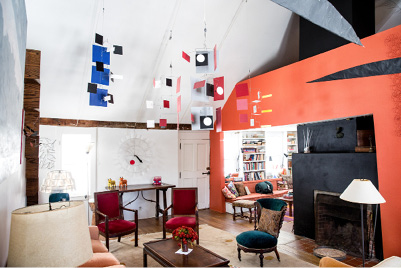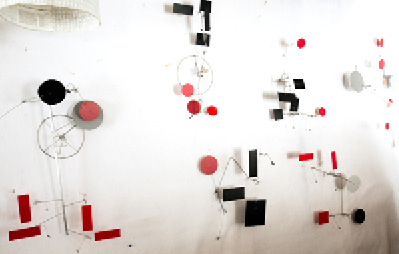 The large body of work installed at his West Cornwall studio has evolved as a series of themes. These include Spinners, Curtains, Zingers, Banners, Orbits and Carpets.  Duodecimal Dance is a wall of "orbits" that now resides at the McWane Center in Birmingham, Alabama, and is similar to other rotating black and red forms in the studio. The large-scale permanent installation comprises nine, six-foot diameter wheels, each with a varied pattern of small red discs, and a small fan. When a computer activates the fans, the discs move in unpredictable patterns.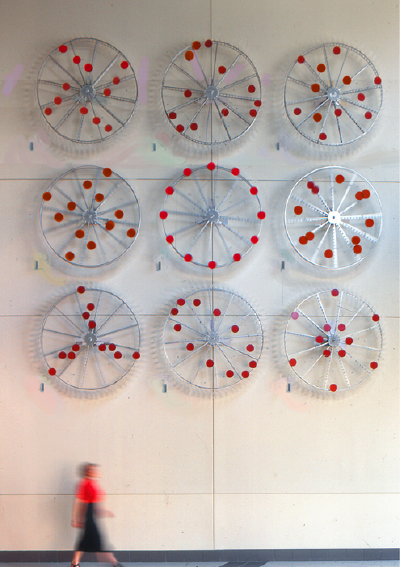 Clear Sky is emphatically vertical, recalling George Rickey's elegant kinetic metal works of the 1960s and 70s.  Like Rickey, here Prentice summons the wind from a rooted foundation. Clear Sky is a bouquet of spines that sways in the breeze, its rigid extremities interacting in endless random relationships.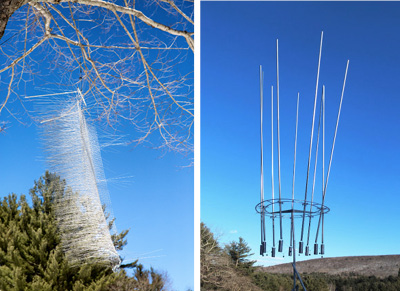 Yellow Zinger is a 96-foot-long structure made of hundreds of plastic paint scrapers. It floats high in the woods, punctuating the vertical trees as an undulated, suspended yellow line. Windframe is a "carpet" motif, which, like the "zingers" and "banners" is supported by an underlying H pattern that allows for the entire surface to move in a see-saw motion.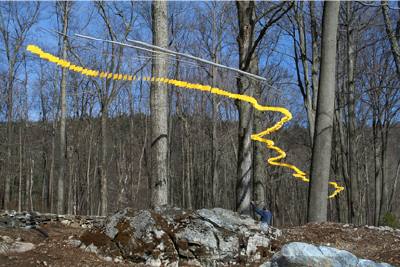 Another group that hangs on the wall is less engineered and more impromptu. Milk and Coffee is a rather comical sculpture that seems to have materialized directly from Prentice's quirky mind. One can imagine, for example, that he sat in his kitchen eyeing the red Medaglia d'Oro coffee can lids and the orange caps from the apple cider jugs just before he conjured Milk and Coffee, a joyful, minimalist color study. A recent cluster of small wire pieces seems to reveal Prentice's thought process, much like a doodle or sketch. These delicate configurations are highlighted with his signature red and black discs, perhaps as anhomage to his modernist roots.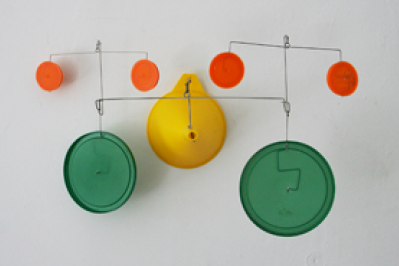 Prentice came to art through architecture.  He studied at Yale during Josef Albers' celebrated tenure, and the master's reductivism remains a guiding principle. Following college, Prentice moved to New York City and worked with Edward Durrell Stone, an important mid-20th century architect. But Prentice soon grew weary of helping Stone realize corporate commissions, and accepted the invitation of the U.S. Department of Cultural Exchange to tour Thailand, India, and Kenya with his wife, Marie and two young children for six months, not as an architect, but as a folk singer! Upon his return to New York, Prentice began a private architectural practice, and taught at Columbia University under the renowned architect, James Polshek. But the international sojourn provided a detour from his presumed path and made him more receptive to alternative career possibilities.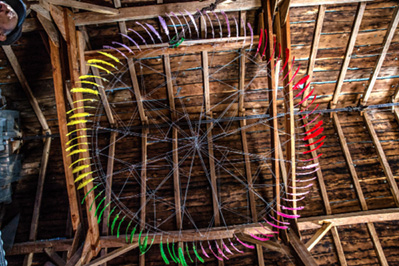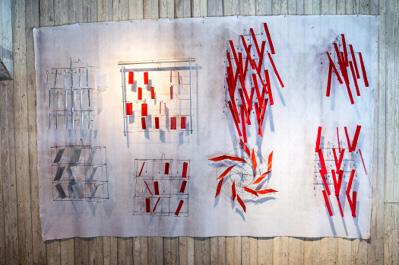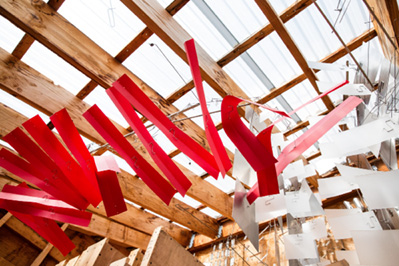 It was not until he was forty-three that Prentice decided to move permanently to Connecticut where he would pursue a career as an artist. He knew the area because he was raised in West Cornwall, and his grandparents also retired there. Prentice and his wife bought their property in 1965. The original house dates back to 1790, onto which the existing house was added in 1830. The Prentices are only the third family to reside there. There are eight outbuildings, including the ice house that now serves as Prentice's office, design area, exhibition space, and storage rooms. He is assisted by his business partner David Covert, who has worked with him for thirty years and by Ellen Moon, another Prentice loyalist.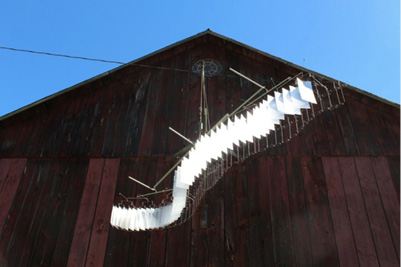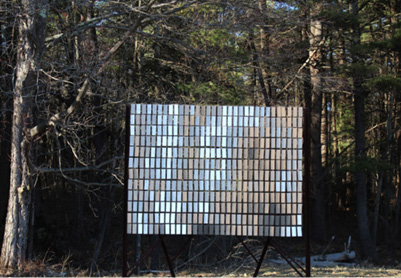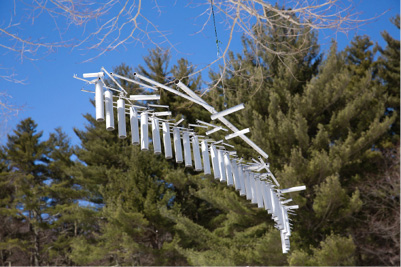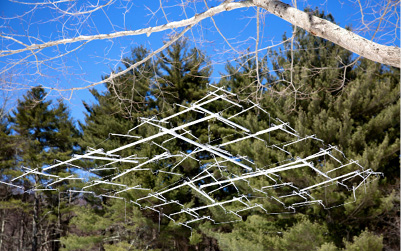 Prentice has fulfilled more than 150 commissions from universities and corporations throughout the U.S. He has received approximately thirty-five one man exhibitions, seventeen temporary installations at museums and civic entities, and has been included in dozens of group shows at museums and galleries. Currently, he is working on a major piece for the new wing of the Westmoreland Museum in Greensburg, Pennsylvania, and another large project in Chicago.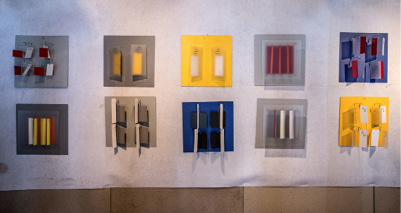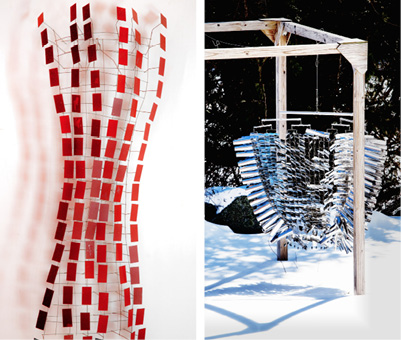 At eighty-seven years old, Prentice remains inventive and practical, preparing commissions throughout the U.S., for public and corporate clients who want him to enliven sterile spaces, or to add lyrical notes to otherwise monotone environments. The wind is his primary collaborator. It adds its own flourishes to his sculptures, determining unexpected revisions to Prentice's original designs.
Tim Prentice website: www.timprentice.com